$200-million river-power project clears key hurdle
Dec 15 2011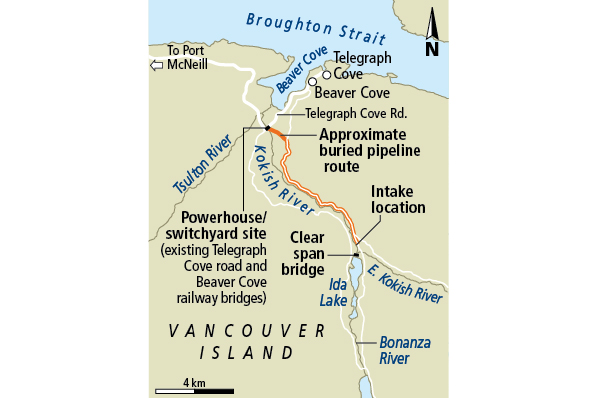 .
Photograph by:
., timescolonist.com
Despite opposition from conservation groups, the provincial government has granted an environmental assessment certificate for Kwagis Power's proposed $200-million Kokish River hydroelectric project near Port McNeill.
The project along the Kokish involves diversion of water into a nine-kilometre pipe constructed under and beside existing roads near the river to a powerhouse downstream of the Telegraph Cove Road bridge.
Though it has cleared the provincial environmental review stage, Kwagis Power must still obtain other B.C. authorizations and regulatory approval from federal authorities.
Water would enter the pipeline at an elevation of 258 metres above sea level and drop to 20 metres at the powerhouse, where the rush of water would turn turbines that generate electricity. The water would then return to the river.
Up to 45 megawatts of electricity — enough to power 15,000 homes — is to be produced and delivered to B.C. Hydro's power grid using a 500-metre transmission line.
Kwagis Power, owned by Brookfield Renewable Power and the 'Namgis First Nation, has an electricity purchase agreement with B.C. Hydro to deliver power by April 2014.
It was one of 19 projects awarded power-purchase agreements last spring. Those agreements are expected to generate 2,400 gigawatt hours of electricity annually — enough to supply 218,000 homes.
The B.C. Environmental Assessment Office said the Kwagis project is not expected to result in significant adverse effects, based on measures included as conditions of the certificate. Conditions include construction oversight by an independent environmental monitor and ensuring no obstruction of fish migration.
But those measures are not enough to satisfy conservation groups.
"The Steelhead Society does not believe the many and complex fish impacts can be sufficiently mitigated with any degree of certainty," Brian Braidwood, president of the society, said in an email to the Times Colonist. "This approval sends a signal to the world that no B.C. stream is off-limits to private power production, regardless of fish values."
Braidwood said the Kokish River has high fisheries and biodiversity values and contains a rare population of wild summer-run steelhead, as well as salmon.
"Only two other streams on the east coast of Vancouver Island have reasonably healthy runs of summer steelhead," he said. "This is the first time in B.C. that a run-of-the-river hydro project has been allowed to divert water from valuable steelhead or salmon habitat.
"In this case, almost the entire stream length from the lake to just upstream of the ocean will be diverted."
Kwagis officials could not be reached for comment.
aduffy@timescolonist.com
We thought you might also be interested in..
Notice
: Undefined index: event in
/home/viccity/public_html/v2/content.php
on line
67