'Dangerous city' tag is misleading, Victoria mayor says
Dec 16 2011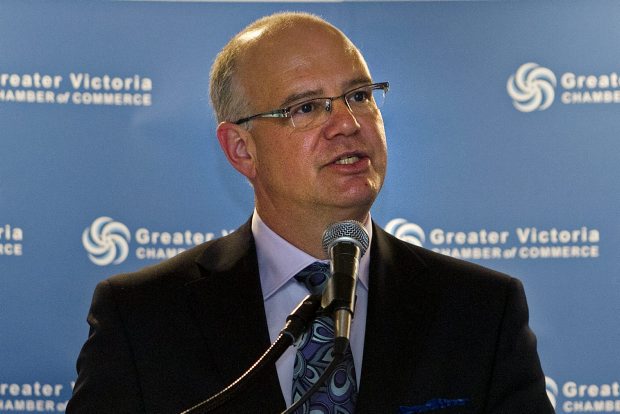 Mayor Dean Fortin: "We're a small city policing the region," Fortin said.
Photograph by:
Adrian Lam, timescolonist.com
Victoria's ranking by Maclean's magazine as the country's second most dangerous city doesn't reflect the true story, says Mayor Dean Fortin.
"We're a small city policing the region," Fortin said.
In a study released Thursday, Maclean's tracked crime trends by examining six offences — homicide, sexual assault, aggravated assault, robbery, breaking and entering, and auto theft. Based on the numbers, Victoria ranked second to Prince George as the country's most dangerous city, the magazine said.
Fortin said Victoria gets caught because statistics show the police force policing a population of 104,000 — the population of Victoria and Esquimalt. But in reality, the city is the centre of the region with its population of more than 350,000.
"That is one of the difficulties that we in Esquimalt and Victoria struggle with. Those two municipalities, with the least ability to pay, have to police for the whole region which benefits from an active and vibrant downtown," Fortin said. Over the past three years, social disorder in the downtown has decreased 26 per cent, he said. "We know that all of our crime stats show that for five years in a row that our crime is dropping throughout Greater Victoria, throughout the province and throughout the country. So in essence, all cities are getting safer."
The Maclean's analysis for Victoria showed 2.9 homicides per 100,000 population, compared with the Canadian average of 1.6; 94.5 sexual assaults per 100,000 population compared with the Canadian average of 65; 11.5 aggravated assaults per 100,000 compared with the Canadian average of 10; 211 robberies per 100,000 compared with the Canadian average of 89.1; 769.7 break and enters compared with the 577.2 Canadian average; and 260.7 auto thefts, slightly lower than the Canadian rate of 271.1.
The biggest problem for Victoria police is not the region's residents who work or play in Victoria as much it is the number of people who come to the city for its bars and dance clubs or because they are addicted and impoverished, said Victoria police Const. Mike Russell.
Tyler Noble, of Shawnigan Lake, died Nov. 26 after an altercation in Victoria during a night out. Noble was not from Victoria, but his death is now a Victoria Police Department statistic. The city has had at least two homicides this year, said Russell.
Moreover, Victoria hosts more than 3.5 million tourists each year, most of whom gravitate to downtown, police said.
"Sixty-four per cent of the crime for the CRD occurs in Victoria and Esquimalt, where only 40 per cent of the people live."
Victoria police renewed their call for a "regional approach to policing in the southern Vancouver Island area" Thursday, citing the Maclean's report.
Russell said when he left Edmonton, where there have been 43 homicides this year, he could have moved to anywhere in Canada. But Russell, his wife and their two children, with one on the way, moved to Victoria because of its true reputation as a safe place, he said.
bcleverley@timescolonist.com
ceharnett@timescolonist.com
We thought you might also be interested in..