Why gas is going for under $1 at Victoria pumps
Dec 16 2011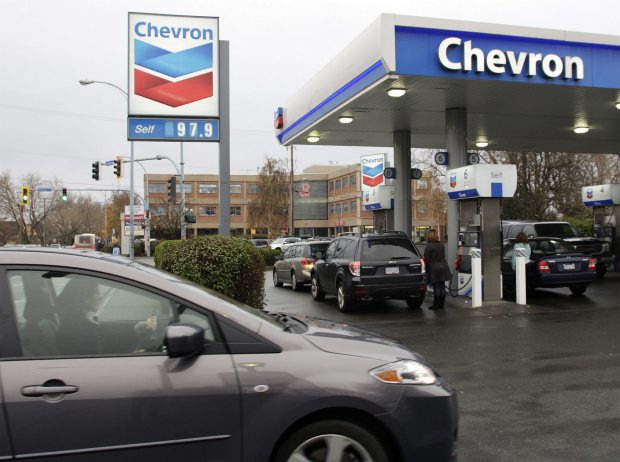 Gas sells for 97.9 cents a litre at a Chevron station at Shelbourne and Hillside streets in Victoria.
Photograph by:
Lyle Stafford, timescolonist.com
Fuelled by large oil companies trying to combat Costco's aggressive pricing, a gas-price war in Greater Victoria has seen a litre of gasoline drop below $1 this week for the first time in nearly two years.
"No question it's a bit of a gas-price war, and it's been a continuation of a trend we have seen over the last six months or so," said Jason Toews of
Gasbuddy.com, which has been monitoring gas prices for the public for 11 years.
As the cost of gas drops, Carleen Crook spends much of her day driving between West Shore gas stations looking at prices.
"We do comparison shopping twice a day and, if it starts wavering, we do it more," said Crook, a Costco gas station attendant.
Prices at Greater Victoria Costco and Chevron gas stations, the main adversaries in the gas price war, were neck-and-neck at 97.9 cents a litre for much of Thursday. The last time it was below $1 was in January 2010. In September, prices reached about $1.34 a litre.
"We drive through their [gas stations] like they drive through ours. That's how gas wars go," Crook said.
"If anyone is lower than us, we lower ours."
At the pumps, vehicles jostled for position as eager buyers filled their tanks to the brim.
The Chevron prices have caused traffic jams on Goldstream Avenue and Millstream Road as lineups spilled over into traffic lanes.
"Oh my. These are great eh?" said Jackie Longhurst of Cobble Hill, looking at the Goldstream Chevron prices.
"This is a little bit more reasonable for the blue collar worker. If they would stay under one dollar a litre ,I think everyone would be quite content," she said.
At Costco, on McCallum Road in Langford, most vehicles in line were pickup trucks. "I love it. I'm topping up when I don't really need to. I really want to buy at this price, especially when I'm driving a half-ton truck," said Roxanne Mill of Esquimalt.
Jim Walker of Central Saanich couldn't remember when he last saw gas prices below a dollar. "I thought I'd better gas up right now. It could be $1.30 in a moment," he said.
Like many others, Phillip Hopkins of Colwood was wondering about the reason behind the price fluctuations.
"I have no idea what drives it," he said. "It doesn't make any sense. Is the cost per barrel going up and down? I'm sure the cost of refining stays about the same."
Toews said the war is a result of Costco setting aggressive prices to draw new customers.
"They are selling gas really cheaply and you get people lining up and signing up for memberships, but even for Costco it's not sustainable. They are losing money with every litre they sell — it's a loss leader used to earn business in their stores for years to come."
Toews said the price war started when oil companies decided they were not going to let Costco do that anymore.
Gord Hahn, an independent Esso agent in James Bay, said the first company to take on Costco's aggressive pricing was Chevron, and when they started, everyone followed.
"Costco came in wanting to take everyone's business away and Chevron said they would match them," he said.
"Chevron got pissed off and good on them for going after Costco for being irresponsible."
But as an independent Esso retailer, Hahn does not buy his gas directly from Esso, but instead has been told he must buy from a "middle man" who sets the price. While Imperial Oil's Esso stations can weather a price war, independent dealers such as Hahn's can't.
To cover his costs, Hahn was selling Thursday at $1.19 per litre for regular. In fact, gasoline was going for about $1.22 per litre on much of the rest of Vancouver Island.
"I feel sorry for the people in my neighbourhood who have been loyal customers. I can't blame them for going somewhere else for gas," said Hahn.
"The last six months have been frustrating, not being able to compete."
While gas prices may not stay below $1 a litre, Toews said the volatility in pricing is going to continue for a while.
"What used to happen is it would be the same for weeks or months at a time and rarely changed. But six months ago the pattern changed around the time Costco opened a gas station," he said.
"It will eventually settle down," he said, noting the same kinds of patterns have been seen in other areas where Costco has opened gas stations.
aduffy@timescolonist.com
jlavoie@timescolonist.com
We thought you might also be interested in..