Review: Brandt just a hat tip away from mainstream pop-rock
Dec 16 2011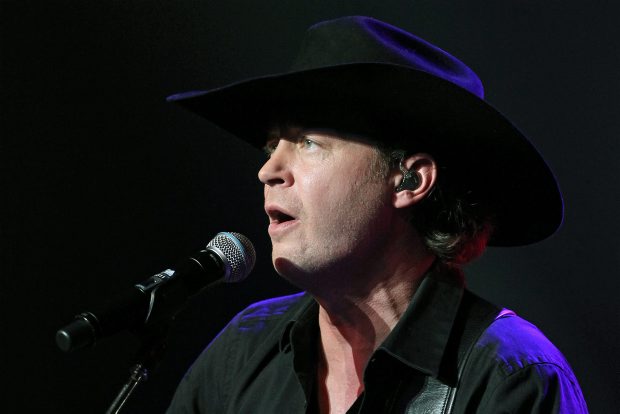 Paul Brandt was in fine voice during his concert at the Royal Theatre Thursday night, sounding more soulful than on his new album.
Photograph by:
Bruce Stotesbury, timescolonist.com
REVIEW
What: Paul Brandt
Where: Royal Theatre
When: Thursday night
Rating: Four stars (out of five)
Paul Brandt, the Alberta country heartthrob, kicked off his Victoria show with Now, a power ballad about living in the moment.
"It's a 'what have you done for me lately' world, we only have today, then it spins and turns," sang Brandt, black-hatted and blue-jeaned.
The crowd . . . well, they loved it. Loudly. If you thought this city wasn't a country town, well, you're dang-diggetty wrong.
"Sounds like we've got a wild and crazy bunch of country fans on the Island," said Brandt, while his fans screamed and cheered. Yee-haw.
He's all of 39 now. And, as befits a fellow pushing 40, his new album, Give It Away, reflects a more mature view point.
The disc has Brandt musing on mortality, love and life. He asks, what's most important? Well, love, as opposed to money and material things. Being faithful and strong. Doing things for others.
OK. And what does mid-life country stardom look like in concert?
Well, his show is a super-slick operation, the sort of extravaganza that would work just as well in an arena as the 1,400-seat Royal Theatre. There were razzle-dazzle video and light screens, a seriously loud sound system and a band of first-rate musicians.
Brandt was in fine voice, sounding more soulful than on the polished Give It Away. Even his trademark trick of hitting a phrase with a baritone dip-down, which can seem self-conscious on record, sounded good.
The new disc includes revamped versions of favourites. I Do, one of Brandt's biggest hits, benefited in concert from a deliberate tempo and a sparse, no-nonsense arrangement. Mid-song, he invited the audience to sing along, just him and his acoustic guitar. And they did. (And of course, some girl yelled out: "I love you!")
Another Brandt biggie was offered, My Heart has a History. It's a about a good ol' boy who's, well, pretty much a regular fella. He's just got a wandering eye. When the singer dropped to a long, oh-so-sexy bass note, the audience cheered.
"Anybody here just love a small town?" asked Brandt, before launching into Small Towns and Big Dreams. That one's an homage to good ol' values, about a guy who's "hard-workin' and God blessed" with "big dreams."
It's pegged as country, but much of Brandt's music is a mere tip of the hat from mainstream pop-rock. There are the same arena-rocker build-ups and pacing, with the audience pushed to excitement with amped-up drum and electric guitar flourishes.
The audience, while excited, was mostly well behaved. There were a few grumbles in my section, though.
Some punters took exception to a pair of girls who stood much of time, suggesting that they "Sit the [expletive] down!" Their male pals countered: "Ever been to a concert before?"
Meanwhile, the elderly couple in front of me left. Ah, live music. You've gotta love it.
Opening act High Valley played a set almost as Teflon-smooth as Brandt's.
My favourite part of their show, which offered solid three-way sibling harmonies, was a rendition of the Backstreet Boys' I Want It That Way. It was dispensed in low German — apparently these brothers have a Mennonite background.
achamberlain@timescolonist.com
We thought you might also be interested in..