Submarine HMCS Victoria returns to base after two weeks at sea
Dec 17 2011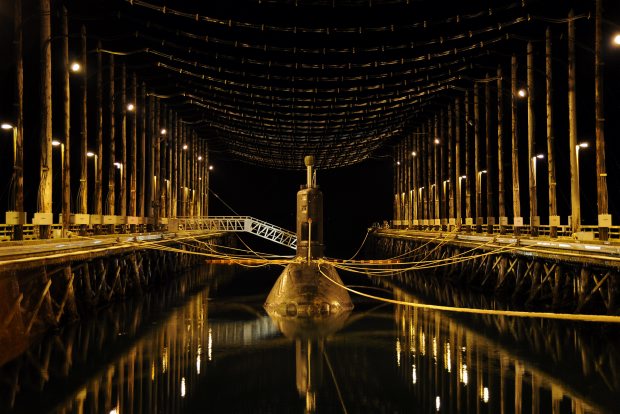 The Royal Canadian Navy submarine HMCS Victoria is moored in the magnetic silencing facility at the U.S. naval base in Bangor, Washington, for a deperming treatment. It reduces the sub's electromagnetic signature, making it harder for enemies to detect.
Photograph by:
Lt. Ed Early, U.S. Navy
The Royal Canadian Navy's west coast submarine, HMCS Victoria, returned to its base at CFB Esquimalt Friday after nearly two weeks at sea, where testing was carried out on the boat's systems and the skills and knowledge of its crew.
"HMCS Victoria's return to sea highlights all the hard work that has gone into this boat," Rear-Admiral Nigel Greenwood, Commander of Maritime Forces Pacific said in a statement.
"The submarine's return to operations will build on the achievements to date of the Victoria-class fleet in previous exercises and operations, and marks another significant milestone in the Canadian submarine program."
If all goes well, HMCS Victoria will be fully operational in 2012, the first of the four Victoria-class submarines to reach this point. Its next scheduled refit is set to take place from 2016 until 2018.
HMCS Victoria arrived at CFB Esquimalt on Aug. 25, 2003 and has been at sea an average of 10 days a year.
It's been a very long voyage for the Victoria and the three other diesel-powered submarines which were bought from Britain in 1998.
HMCS Windsor sailed from June 2005 to December 2006 and has since been in drydock on the east coast. It is scheduled to be operational from 2013 until 2018, when it will undergo a three-year refit.
HMCS Chicoutimi has not been at sea since a fire broke out on its delivery voyage across the Atlantic. The boat is also in refit and expected to be operational from 2013 until 2020.
HMCS Corner Brook hit the ocean bottom this year during training in Nootka Sound this year. The sub struck the southeastern wall of Zuciarte Channel. There were no serious injuries.
The results of a naval inquiry were released Friday, blaming the grounding on human error.
"The incident was avoidable," Capt. (Navy) Luc Cassivi, deputy commander Canadian Fleet Pacific, said in a statement.
"The grounding was caused by a failure to properly account for the positional uncertainty of the submarine in accordance with approved ... submarine navigational practices and techniques when operating in confined waters."
Lieut.-Cmdr Paul Sutherland was removed from command of the submarine and reassigned to a position onshore. A lack of training and experience were also found to be factors in the incident.
HMCS Corner Brook will remain at dock until 2015, and is scheduled to be operational by 2016.
smcculloch@timescolonist.com
We thought you might also be interested in..