Items washed up in Tofino unlikely to be from tsunami, expert says
Dec 17 2011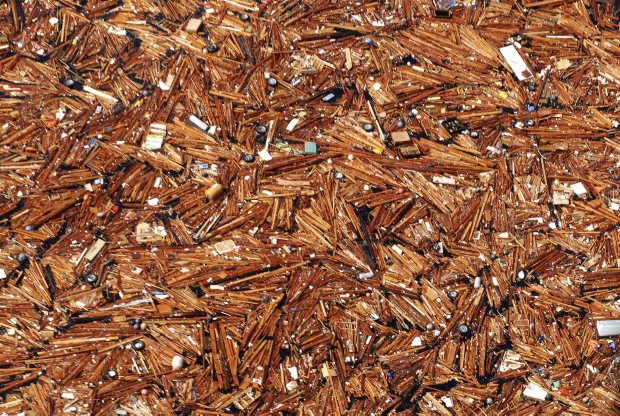 A U.S. Navy photograph shows debris on the surface of the Pacific two days after the earthquake and tsunami that hit Japan.
Photograph by:
., Reuters
Plastic bottles and chunks of wood with Japanese script on them are washing up on Tofino beaches, but experts say the items are likely from garbage tossed off freighters, not debris making its way across the Pacific Ocean after the earthquake and tsunami in Japan.
"I can't verify that any of those bottles or pieces of wood are from the tsunami," said Seattle-based oceanographer Curtis Ebbesmeyer, who has been tracking flotsam since 1970. "You can't really trace those. There are a lot of fishermen working on Japanese freighters in the middle of the Pacific and they may throw garbage overboard."
Several plastic and glass bottles have washed up in Tofino since the beginning of December with Japanese writing on them. Many in the surfing and tourism community on Vancouver Island's west coast believe it is the beginning of the debris field arriving.
Millions of tonnes of flotsam are estimated to be floating in the North Pacific after the March 11 earthquake and tsunami devastated northern Japan.
"We are drawing the conclusion this is from the tsunami," said Tofino Mayor Perry Schmunk.
Items with Japanese markings on them and lumber with Japanese export stamps on them don't usually wash up on Tofino beaches, Schmunk said. That any at all are washing up is significant, he said.
Owners of the surf shop Live to Surf are photographing and cataloging the items found at livetosurf.com/tag/tsunami/.
"This is in the very early stages and is not significant at this point in terms of volume, but it does raise concerns about what its potential could be," Schmunk said.
The debris field is predicted to arrive somewhere along North America's west coast in 2014, said Tofino resident and avid beachcomber Barry Campbell.
If the water bottles and cans washed ashore were from the tsunami, they would be covered in goose barnacles and algae, said Campbell who has roamed Tofino's beaches for more than 40 years as a resident and working for parks.
"This stuff is largely clean, which indicates it hasn't been in the water that long," Campbell said. "I think this is garbage from freighters."
Although Ebbesmeyer does not think the Tofino debris is part of the tsunami flotsam, he believes a metre-high buoy found two weeks ago near Neah Bay is.
The buoy has numbers on it that correspond to oyster aquaculture farms in Japan, Ebbesmeyer said.
"It is a working hypothesis, but the facts keep coming in," he said.
Lighter debris, such as a buoy, would arrive first out of the tsunami debris because it is lighter and sits partially above the water. It could travel about 32 kilometres a day, Ebbesmeyer said, while heavier objects move about 11 kilometres a day. He urged anyone who finds debris suspected to come from the tsunami to take photos of it and send them to him through beachcombersalert.org.
kwestad@timescolonist.com
We thought you might also be interested in..
Notice
: Undefined index: event in
/home/viccity/public_html/v2/content.php
on line
67