Buskers allowed to sell CDs
Dec 17 2011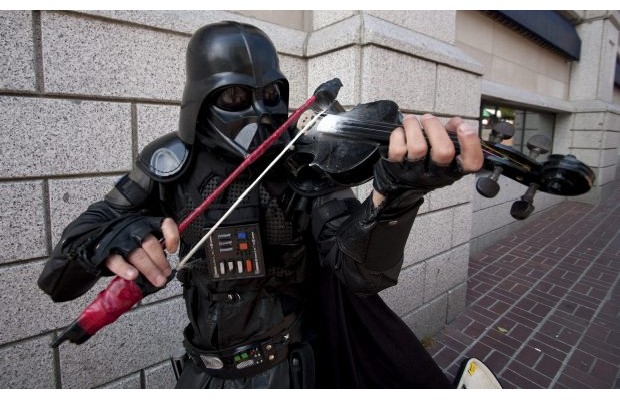 Darth Fiddler, one of Victoria's most popular buskers, plays downtown.
Photograph by:
Darren Stone, timescolonist.com
Victoria buskers will be able to sell merchandise under new bylaw amendments agreed to by city councillors.
But in a move designed to give a break to merchants who are often captive audiences of performers outside their shops, the city will force buskers to move on after a set.
The council has instructed that bylaw amendments be drafted so that buskers will only be allowed to perform in one location for a maximum of two hours or until they have exhausted their repertoire, whichever comes first, and then not return for the rest of the day.
"There will be rotation, but the quid pro quo is that they will be able to sell their own product that they've created," Coun. Chris Coleman said.
The changes will allow buskers to sell products such as CDs of their music or, in the case of chalk artists, postcards of their work.
The city will also pilot the use of a uniform sign that states the street entertainers are not paid by the city and are allowed to collect donations.
Councillors followed staff recommendations and decided against introducing a group busking licence. Buskers currently have to pay $25 a year each for a licence. The group tag would have meant that entertainers who regularly perform as a group would not each have to pay the $25 fee, but city staff were worried the provision would be too difficult to police. They said a group licence may have proved more expensive for individuals who perform both solo and as a group.
Changes will also make compliance with the street entertainer's guidelines a condition of holding a busking licence. The guidelines include an entertainers' code of conduct, including allowable performance and a prohibition on intoxication or drug or alcohol hours while performing.
City staff feel that if the guidelines are a condition of the licence they can be enforced, as a violation could result in suspension.
bcleverley@timescolonist.com
We thought you might also be interested in..