Oak Bay Beach Hotel owner thanks community as landmark venue takes shape
Dec 18 2011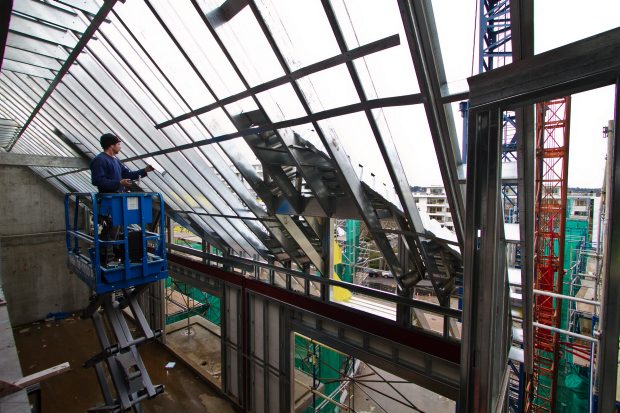 Workers are putting in long hours to make the hotel ready. (Dec. 2011)
Photograph by:
Darren Stone, timescolonist.com
Envisioning the new Oak Bay Beach Hotel on opening day requires a bit of imagination, but even the concrete and steel skeleton of the $52-million building demonstrates its detailed design.
Owner Kevin Walker has taken the project from its concept stage eight years ago and plans an official opening in the spring.
He says he has picked up more than $20 million in real estate sales this year, despite a softened market. By opening day, he expects to have sold 70 per cent his 100 strata hotel units and 20 residential units.
Walker credits the community for backing the project, as his family slowly made progress in face of global economic turmoil.
"It will become known as the hotel the community built," Walker said. "I think we owe it to Victoria to keep them apprised of what we are doing because they're the ones who helped us do what we've done."
Walker used private placement bond offerings to finance the project when traditional financing disappeared after the recession hit in 2008.
Features of the hotel include a 200-seat theatre, the popular Kate's Cafe and the much-anticipated return of The Snug pub.
Walker salvaged memorabilia from the old hotel before tearing it down and will use those items to finish construction. On Saturday, he stood in the new location of The Snug, which so far looks like nothing more than concrete pillars and wiring. The room is expected to be complete in January when old beams, bricks, and light fixtures can be brought in.
The largest construction project in Oak Bay history will also be one of the safest hotels. The building has been anchored to the bedrock by 70 massive bolts drilled 10 metres deep.
On one of the three levels of underground parking there is a generator that will keep the hotel fully operational should it lose electricity. A loading bay that exits onto Satellite Street is large enough for transports to drive through so they are hidden from guest view once inside.
About 200 workers will work long hours in the coming weeks to ensure that the hotel is ready for a May long-weekend opening.
dspalding@timescolonist.com
We thought you might also be interested in..