Dix steers NDP from wasteland to getting ready for government
Dec 18 2011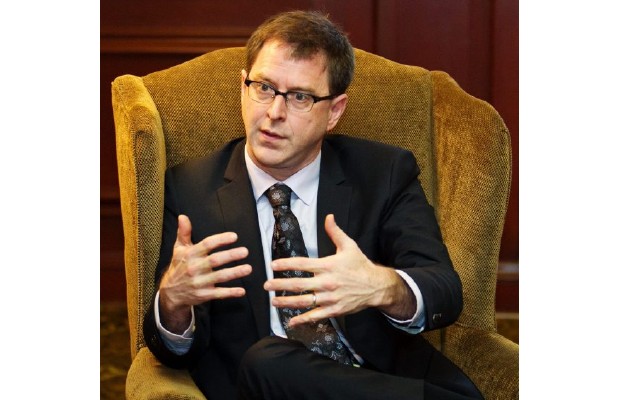 Adrian Dix in the library at the B.C. legislature last week. The leader of the New Democrats said his party intends to try to win every seat at the 2013 provincial election. (Dec. 2011)
Photograph by:
Darren Stone, timescolonist.com
Just a year ago, the question facing most B.C. New Democrats was: what in the world has gone wrong with this party?
A bitter internal fight had divided its members, forced Carole James out as leader and left political observers and party veterans wondering if the NDP could survive, let alone form the next government.
But those aren't questions anyone is asking leader Adrian Dix anymore. With most wounds healed, a united caucus behind him and a growing lead in the polls, the question Dix is hearing now is: are you read to be the next premier?
"People do [ask]," Dix said in a recent year-end interview. "But it's not about me. One of the things we've tried to do in the NDP is build a government in opposition.
"I think you've got to prepare a platform of alternatives, but, as we've seen in the last year, a year is a long time in politics and 18 months is even longer than that."
Dix won the party leadership in April. He worked quickly to unify the 34-person caucus and pulled off the improbable when he convinced James, just months after being ousted as leader, to run for re-election as MLA for VictoriaBeacon Hill. It's almost unheard of for a toppled party leader to continue as an active member of caucus. But Dix now calls James a top critic, senior adviser and close friend.
"The single most important thing was Carole's decision to run again after the leadership race, because it, I think, symbolized the determination of the party for people," he said.
The NDP has since had a strong showing in the Vancouver-Point Grey byelection (won by Premier Christy Clark), assembled a full election team and platform, critiqued government on key issues in the fall legislative session and, most recently, pulled together to celebrate a successful party convention in Vancouver, said Dix.
He's not holding back on his election strategy for 2013, which will be to portray the Liberals as a government that has hurt the economy, fumbled the harmonized sales tax and run out of ideas.
"It's a record of a government that seems like they're entitled to power. And I think that's a key element of the election campaign. We're going to contrast that with an agenda of bold change, but modest in the sense we're not going to be addressing every issue that needs to be addressed. We've got to do a few things and do them well.
"That's my approach to the government, to the campaign, to opposition, and I think it's what's required these days."
The strategy of carefully choosing the battles to fight was on display in the fall legislative session, when Dix publicly supported much of the Liberal legislation - reforms to family law, for example, and a crackdown on metal theft - while launching full-out attacks on key issues such as underfunding and mismanagement at Community Living B.C., the agency charged with helping people with developmental disabilities. The party intends to run "an 85-seat strategy" in 2013, and is in a good position to put up a strong fight in even the most safe Liberal ridings where, in the past, the party has all but conceded the fight, he said.
It's not out of the realm of possibility the NDP could sweep Vancouver Island, where they currently have a comfortable hold on all but four of the 13 seats.
"We're running to win every seat, and so on Vancouver Island you bet we're going to be contesting every single seat," said Dix.
"[The Liberals] have taken the Island for granted, for whatever reason they don't do very well here, and they don't like that, so the Island always gets the short end of the stick.
"But even regions that elect Liberals seem to get the short end of the stick these days. And I think people are looking for change."
rshaw@timescolonist.com
We thought you might also be interested in..