Man alleged to have struck, kicked B.C. Ferries workers in Nanaimo faces sailing ban
Dec 19 2011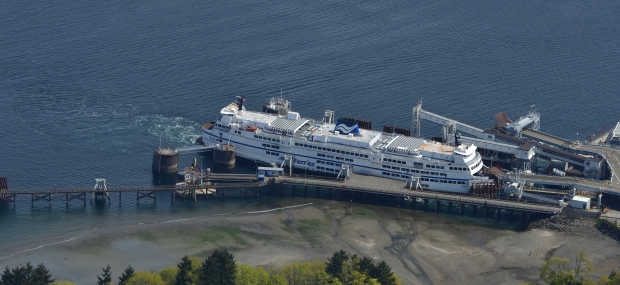 Departure Bay ferry terminal at Nanaimo.
Photograph by:
Nanaimo Daily News, ...
A man alleged to have attacked two B.C. Ferries employees in Nanaimo might be barred from sailing with the corporation.
Ferries staff reported that a man who missed the cutoff for a 3 p.m. sailing to HorseshoeBay out of the Departure Bay terminal on Saturday became furious when staff would not let him board.
The man is alleged to have struck the terminal manager in the face and kicked a second employee, B.C. Ferries spokeswoman Deborah Marshall said Sunday.
Police were called and the man was arrested. Nanaimo RCMP could not be reached for details, but CHEK News reported that a 26-year-old is set to appear in provincial court on Feb. 14 to face assault charges in connection with the incident.
Infrequent assaults on staff have occurred over the years and B.C. Ferries has banned passengers for similar behaviour.
"Our employees are entitled to a violence-free workplace and they certainly shouldn't be assaulted when they come to work," Marshall said. "We don't tolerate it."
B.C. Ferries requires that passengers driving or walking onto a ferry must arrive at least five minutes prior to sailing. The policy has been a longstanding one at Departure Bay, and a 10-minute cutoff was introduced in Horseshoe Bay three years ago.
The ferry network is a lifeline for Vancouver Islanders, so a banishment can be a serious punishment. There was, however, no sympathy from B.C. Ferries on Sunday.
"He should have thought about that before he assaulted two of our employees," Marshall said. "We just want to reinforce that this sort of behaviour won't be tolerated and [people] won't be travelling with us if that happens."
dspalding@timescolonist.com
We thought you might also be interested in..