Provinces balk at cuts in health-care funding
Dec 20 2011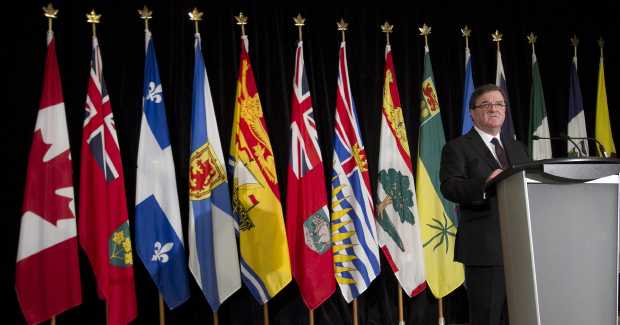 Federal Finance Minister Jim Flaherty addresses the media at the Hotel Grand Pacific yesterday, announcing reductions in the federal funding formula for health care.
Photograph by:
Adrian Lam, timescolonist.com
VICTORIA — Ottawa's decision to throttle health-care funding to Canadian provinces and territories will lead to cutbacks in service and threaten the future of the country's universal health care system, the finance ministers from several provinces said Monday.
B.C.'s Kevin Falcon, who approved of Flaherty's plan, was clearly in the minority.
Finance ministers from across the country had gathered in Victoria to start what they thought would be discussions about a new 10-year health care accord with the federal government. Instead, finance minister Jim Flaherty surprised and angered many of his provincial counterparts by dictating a slowdown of billions in federal cash.
Flaherty said he'll honour a promise to increase provincial health-care transfers at six per cent a year until 2017. But, after that, Ottawa will link health care spending to the rate of the country's economic growth, including inflation — which is currently around four per cent. The new deal runs until 2024.
"If we want sustainable health care that will be available in the future, five, 10 and 15 years down the road, we need to make sure that the funding is affordable for governments," Flaherty told reporters after meetings at the Hotel Grand Pacific.
Funding won't dip below three per cent, no matter how the economy performs, Flaherty promised.
Federal health transfers make up a significant chunk of provincial health spending. In B.C., it amounts to 20 per cent of health-care costs. B.C.'s total health-care costs eat up 40 per cent of its annual $40-billion budget.
Six provinces lined up to oppose the new federal funding plan, saying less cash from Ottawa will strain their budgets and hurt patient care. The finance ministers of Manitoba, Ontario, Quebec, Nova Scotia, Prince Edward Island and Newfoundland and Labrador sharply criticized Flaherty for unilaterally dictating the terms, a move Manitoba's Stan Struthers called "a slap in the face."
B.C. Finance Minister Kevin Falcon supported Flaherty's terms, saying that the security of a six per cent increase for the next five years gives his government comfort as it prepares for the reduced increases.
B.C. is set to receive around $3.8 billion in federal health
transfers this year.
The provinces need to create a sustainable health-care system instead of just throwing more money at it, said Falcon, highlighting the need for all levels of government to consider health costs in context of shrinking budgets.
"We do not want to find ourselves, either federally or provincially, in positions where our economic integrity is going to be undermined by the fact we have not been disciplined," he told reporters.
Falcon also supported Ottawa's move to a per capita funding formula for health care in 2014-15. However, he wants more money for provinces that have a greater portion of seniors and higher health-care costs.
The per capita funding formula will cost B.C. $250 million in federal funding in 2014-15, but Alberta gains an additional $1 billion.
Finance ministers expected health transfers to be a light conversation over lunch. Instead, Flaherty arrived with documents outlining the details of the new long-term deal.
Ministers asked Flaherty if the proposal was a recommendation.
"He said, 'No, we think we know best and we'll tell you how it will work,' " said Wes Sheridan, finance minister for P.E.I. "Some of us just sat there in full disbelief."
Ontario Finance Minister Dwight Duncan said Ottawa has given the provinces a "lump of coal" just before Christmas.
Duncan said he hopes premiers can "get this thing back on track" during a meeting in Victoria next month.
"I don't think you've heard the end of this."
rshaw@timescolonist.com
dspalding@timescolonist.com
We thought you might also be interested in..