Grisly killing of pet rabbits leaves Island family looking for justice
Dec 20 2011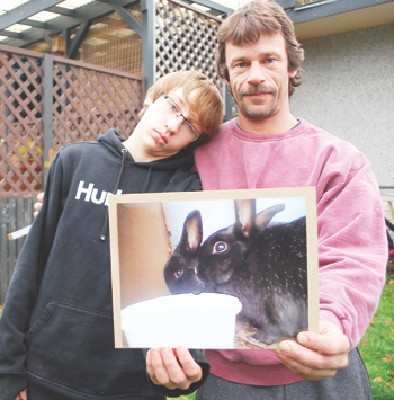 Wyatt Jones, left, and father Cory are hoping for justice after a dog killed their two pet rabbits
Photograph by:
Julia Caranci, Alberni Valley Times
PORT ALBERNI — A young boy has lost his pet rabbits in a violent incident involving a dog, and the family says justice has not yet been served.
Wyatt Jones has owned two rabbits, Comet and Storm, for five years. They were his pets and lived in the backyard in an enclosed wire pen.
On Saturday morning, Wyatt's father Cory went outside and was greeted by a grisly sight.
"Both rabbits were dead, and the dog that killed them was still in the pen," Cory said.
The cage was raised off the ground with a lid on top at chest level, and the family still does not know exactly how the dog managed to get in.
While he felt the urge to take revenge on the dog himself, Cory called the SPCA.
Deb Theirsten, from the local shelter, responded to the call.
She confirmed the dog was still in the cage when she arrived, and the rabbits were "deceased."
What angered the Jones family even more than the killing of the pet rabbits was what happened next. They were informed that within 45 minutes of the dog being impounded at the local shelter, his owners had reclaimed him after paying the impound fee.
"It killed two animals viciously," said Wyatt's mother Lora.
The owners of the dog were given the Jones' contact information in the hope they might want to apologize or make restitution.
"They allowed them to have our name, but legally we're not allowed to know who they are," Lora said.
The only thing they have been told is the dog and his owners are from the Nanaimo area and visit Port Alberni regularly.
Cory assumed the dog would be put down and is not pleased with what he feels is a lack of justice. However, the city may still take action.
"This is not over," said Tim Hautzinger, bylaw enforcement officer for Port Alberni.
Hautzinger has begun his investigation into this incident, but cannot comment on it yet.
The city can designate animals as dangerous or vicious with authority from the Prevention of Cruelty to Animals Act, the Community Charter and local bylaws. If a dog receives this designation, the owners are required to keep the dog in a secure pen at all times, or if not, on a leash and muzzled and in the care of a competent person.
Hautzinger admits the investigation will be a challenge because the dog owners live in Nanaimo.
JCaranci@avtimes.net
We thought you might also be interested in..