Mustard Seed hopes for happier new year
Dec 21 2011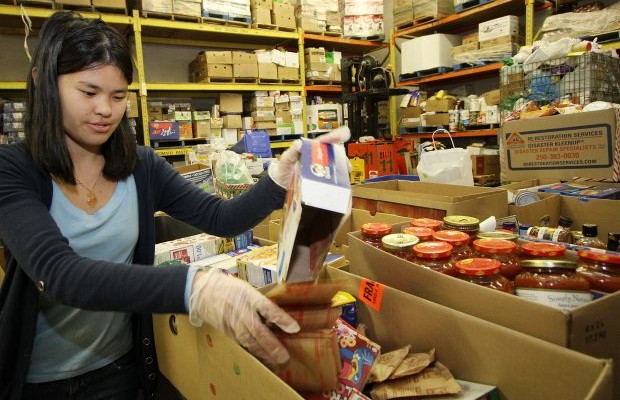 Quinn Willson sorts through food Tuesday at the Mustard Seed Food Bank, now distributing holiday-season hampers.
Photograph by:
Adrian Lam, timescolonist.com
Staff at the Mustard Seed Food Bank have two Christmas wishes - bump up the donations and make 2012 a better year than 2011.
"Let's hope 2012 is not going to be like 2011. It has been extremely difficult," said Brent Palmer, food bank director.
"It has been a year of turmoil. The global economy has been in an awful tailspin and the price of food has gone up almost 40 per cent on a global level," he said.
The net effect is that the Mustard Seed, which relies on the last six weeks of the year to raise 60 per cent of its annual budget of $2 million, is down on cash donations by about half, executive director Rev. Chris Riddell said.
"We really depend on that to function in the following year," he said.
"But Victoria has always been generous and we hope people will come through," Riddell added.
The budget was boosted Tuesday by a $10,000 donation from Coast Capital Savings Credit Union.
"We have been a long term supporter of the Mustard Seed," Coast Capital branch manager Robert Wicks said.
"They are such a leader in our community."
Food donations have not dropped as badly as cash contributions and 637 turkeys have been packed in hampers.
But it is cash contributions that allow flexibility to buy food when it is needed, Riddell said.
"It's a matter of praying. We are really praying," he said.
Regular donors have continued to donate, but those on fixed incomes or relying on the stock market have tended to donate less, Palmer said.
The experience has been the same at food banks across Canada, he said.
At the same time, the number of clients is increasing.
"We are seeing an increase in seniors who are on a fixed income. - Also, people on minimum wage are coming into food banks because they can't make ends meet," Palmer said.
The food bank feeds about 7,000 people a month and numbers are expected to increase over Christmas.
Hampers, containing everything from turkeys to chocolate, were handed out to families Tuesday.
Couples will collect hampers today, singles Thursday. Friday will be reserved for emergencies.
"That last day is critical. People get lost in the shuffle," Palmer said.
Panic starts setting in as Christmas approaches and it is particularly heartbreaking to see mothers who realize they are not going to be able to provide a proper Christmas for their children, he said.
"Children are the innocent victims."
jlavoie@timescolonist.com
We thought you might also be interested in..