Historic Cole Island in Esquimalt Harbour gets injection of funds for building repairs
Dec 21 2011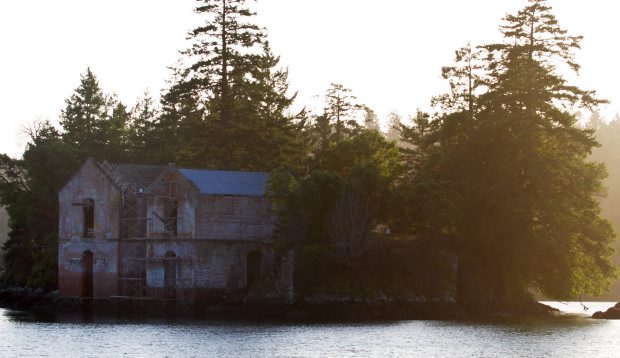 Cole Island's five remaining structures include two for shell storage, two powder magazines and a guard house. (Dec. 2011)
Photograph by:
Darren Stone, timescolonist.com
A small island in Esquimalt Harbour - known alternatively as Cole Island, Magazine Island and Cole Island Magazine - will be spruced up, thanks to Tuesday's funding announcement from the federal and provincial governments.
Part of the Esquimalt Naval Sites National Historic Site, the island is owned by the province and managed in partnership with the Friends of Cole Island Society.
Its wooden and brick buildings were built by royal engineers after the 1858 gold rush. The buildings, believed to be Esquimalt's oldest, were used to house gun powder and shells for the Royal Navy ships.
"Our government is proud to invest in Canada's historic sites," Heritage Minister James Moore said in a release.
"By supporting groups that operate sites like the Cole Island Magazine - we help protect Canada's history, support local economies and encourage more Canadians to explore and discover our national heritage."
Cole Island represents the significant role that naval defence has played in the development of the B.C. coastline, said Steve Thomson, B.C. minister of Forests, Lands and Natural Resource Operations.
"We are pleased to work with the federal government to preserve these buildings for future generations," Thomson said in a release.
The joint announcement by the two levels of government means that up to $136,000 will be available to stabilize and preserve the five remaining structures on Cole Island, including two for shell storage, two powder magazines and a guard house.
The island was established as a naval site in 1859 and retired in 1938. It was designated a national historic site in 1995.
The funding announcement was an early Christmas present for a group of View Royal residents who have taken Cole Island under their wing.
"This is great news, absolutely great news," said Linda Carswell, founder of the Friends of Cole Island.
Work has begun on repointing brick on one of the buildings and replacing beams on others, she said.
"They're starting to resurface the roofs and they're also rebuilding part of the wall on the guard house, which was probably the most dangerous building," Carswell said.
The island is accessible to anyone with a boat and it is a popular destination for visitors during the summer.
"In the summertime, there's someone on that island pretty much constantly," Carswell said.
There hasn't been any vandalism for nearly 18 months, she said. The Friends of Cole Island live in homes around the bay with views of the island.
"If you go into anybody's house, there's a pair of binoculars right at the window and quite often I get calls that there's someone on the island looking suspicious."
Group members who fear for the historic structures call on the RCMP.
The latest funding will leave the structures on Cole island in good shape for the future, Carswell said.
"I think that island will last many more years and we're hoping eventually it becomes a place where families can come on a kayaking trip," she said.
The group will request permission from the province to put a picnic table there "and maybe a small dock," she said.
smcculloch@timescolonist.com
We thought you might also be interested in..