Victoria police seize $10,000 cache of stolen goods
Dec 22 2011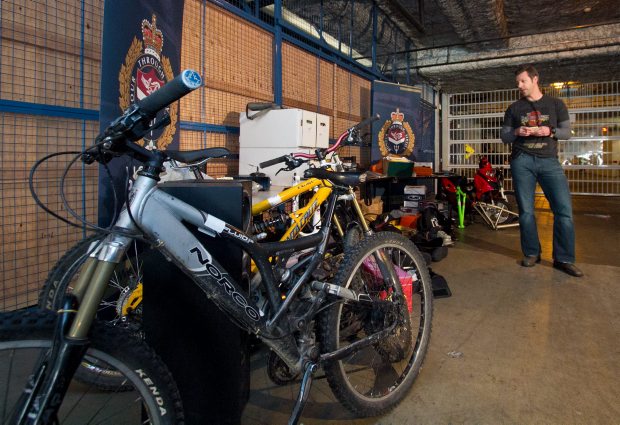 Victoria Police Department Const. Kevin Nystedt shows a large cache of recovered stolen property in Victoria. (Dec. 2011)
Photograph by:
Darren Stone, timescolonist.com
Victoria police and the Regional Crime Unit seized a cache of stolen goods worth more than $10,000 after a raid on a home three blocks from the police station.
Undercover officers with the Regional Crime Unit, which targets prolific offenders, searched a home in the 1100-block of Caledonia Avenue last Friday.
The home was littered with stolen goods, ranging from scuba gear to a chain saw, to mountain bikes, lap tops, cameras and forged ID and cheques, said Const. Kevin Nystedt with the Victoria police street crime unit.
The most valuable find was a comic book collection worth $8,500 stolen from an apartment storage locker in Cook Street village. Nystedt said police have identified the rightful owner and he will get his comic books back.
Police showed off the seizure Wednesday in the basement of police headquarters located at 850 Caledonia Avenue.
The items were stolen from cars and storage lockers all over the region.
Nystedt said a common strategy for thieves is to sneak from car to car trying the door handles for an unlocked vehicle.
"They'll take anything and everything that has resale value," he said.
Three people in the home at the time of the raid were arrested. A 27-year-old man, a 29-year-old-woman and a 23-year-old woman are facing charges of possession of stolen property. Their names were not released but all are from Victoria and well known to police.
Nystedt said it's not clear how many people were involved in the theft operating but he isn't ruling out more charges against the three or more arrests.
Victoria police want to return the items to their rightful owners. Anyone who thinks they've been a victim of theft should contact Const. Kevin Nystedt at 250-995-7395 or vi5354@vicpd.ca
kderosa@timescolonist.com
We thought you might also be interested in..
Notice
: Undefined index: event in
/home/viccity/public_html/v2/content.php
on line
67