Good response from public to city's garbage survey
Dec 22 2011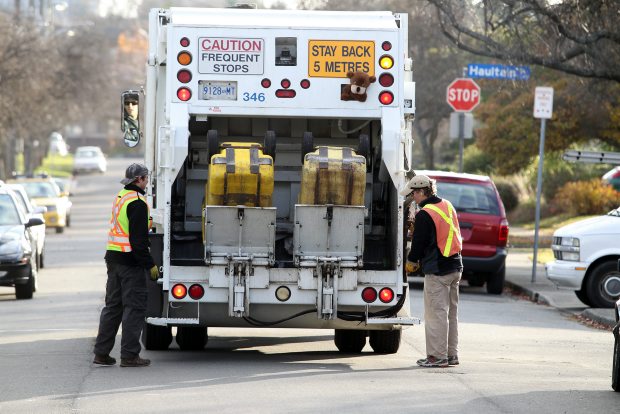 City of Victoria is surveying future garbage collection options. City of Victoria sanitation workers Dave Parker and Mark Gudowski at work. (Dec. 2011)
Photograph by:
Bruce Stotesbury, timescolonist.com
Victorians, it seems, take their trash collection seriously.
More than 3,100 households mailed back city surveys, about 27 per cent of the 11,400 sent out, on possible changes to garbage collection that, once implemented in 2013, would see the end of backyard pickup and return of garbage cans.
"We're very pleased," Mayor Dean Fortin said of the response, which, he noted, is comparable with the turnout in a municipal election.
Tabulation of results will not be completed until the new year.
"Hopefully, it's determinative," Fortin said. "Essentially, this is one of the decisions we put in the hands of the population in the sense of a direct indication. So we'll see what comes back."
The city, keen to introduce the pickup of organics and wanting to replace aging trucks, wants to modify the service.
But the city union CUPE Local 50 is worried about job losses and thinks residents are being shortchanged by being denied the status quo option. Unionized workers mounted a campaign of their own, delivering leaflets that urged residents to protect the service they already receive and to add a comment to the city's mailed-out survey calling for continuation of backyard tote collection and return.
Residents were offered a choice of three options:
- alternating weekly pickup (garbage one week and organics the next) with backyard pickup, but bins left at the curb (estimated to cost $229 a year per household);
- collection every two weeks of both organics and garbage with pickup from the backyard, but with the tote left at the curb (estimated to cost $183 a year per household);
- collection every two weeks of both organics and garbage with both pickup and tote return at the curb (estimated to cost $161 a year per household).
Kitchen scraps include fruit and vegetable scraps, meat/fish and soiled paper products.
Kitchen scraps make up about 30 per cent of the waste currently going into household garbage.
All the options would see the city supply residents with standardized, wheeled totes, which can be automatically tipped by trucks to reduce injuries to workers.
Victoria and Saanich are among the few remaining municipalities to have backyard pickup instead of having residents haul cans to the curb.
Victoria collects every week from about 11,400 single-family homes, while Saanich collects every two weeks from more than 31,000.
In 2003, a survey found that 88 per cent of Victoria residents were either satisfied or very satisfied with the service.
bcleverley@timescolonist.com
We thought you might also be interested in..