Victoria mutiny of 1918 revived in call for justice
Dec 22 2011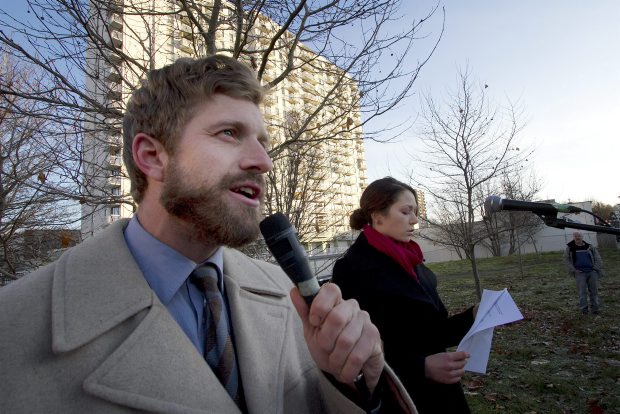 Victoria coun. Ben Isitt and Maihanna Murphy help commemorate on Wednesday, Dec. 21, 2011, a forgotten mutiny of French-Canadian soldiers that took place in 1918 at the corner of Fort and Quadra streets.
Photograph by:
Adrian Lam, timescolonist.com
Victoria city councillor Ben Isitt was sitting in the basement of the University of B.C. library 12 years ago when he discovered a historical event that he thought shed light on Victoria's military past.
After years of research, he's leading a charge to clear the names of French-Canadian soldiers who mutinied in Victoria in 1918 because they refused to fight in an overseas battle in Russia.
Isitt was joined by about a dozen people on Wednesday as he commemorated the mutiny that took place at the corner of Fort and Quadra streets. Ninety-three years ago on Dec. 21, French-Canadian conscripts in the 259th Battalion of the Canadian Expeditionary Force mutinied on the very spot Isitt stood.
The soldiers did not support Canadian forces entering a battle simply because Great Britain had sought their support, Isitt said.
He is calling on the Canadian government to pardon the men.
Isitt has extensively documented the event in his book From Victoria to Vladivostok: Canada's Siberian Expedition. The nine ringleaders of the mutiny served a range of jail terms, stretching from 30 days to three years.
"I'm really happy today to see this history remembered by a growing number of people," he said.
Isitt has met the families of the men in Quebec and is preparing a legal brief outlining that the Military Service Act did not empower the government to force soldiers to serve overseas.
"The military command admitted as much back in 1919 when it suspended their sentences before the soldiers came home," Isitt said.
"So they came home as free men, but we think it should go a step further in that their records should be cleared or pardoned and their families should receive an apology."
The executive director of the Victoria Francophone Society attended the event. Christian Francey said the work being done on behalf of the dead soldiers represents the ability of French and English communities to work together.
"For many, many years we are two communities, English and French here in Canada and we've been working together even if we have different challenges and different ideas," Francey said.
dspalding@timescolonist.com
We thought you might also be interested in..