Duke Point ferry terminal will be closed for several months, B.C. Ferries says
Dec 22 2011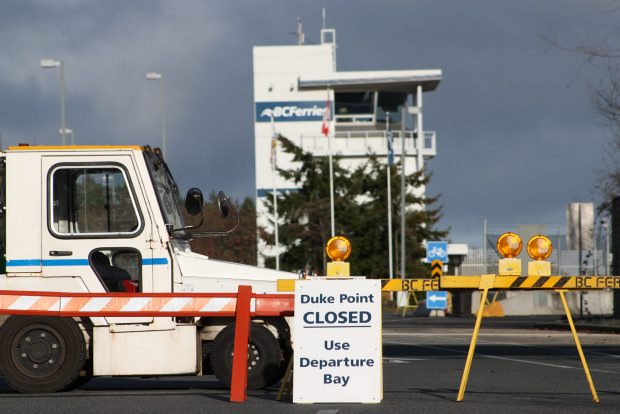 The Duke Point ferry terminal was shut down on Wednesday and would-be passengers were turned away. A Coastal Class ferry collided into its berth a day earlier, damaging the vehicle ramp.
Photograph by:
Matthew Gauk, Nanaimo Daily News
NANAIMO — Duke Point ferry terminal will be closed for several months so that its vehicle ramp, damaged when a ferry rammed into it, can be repaired, B.C. Ferries said Wednesday.
An electronics failure in Coastal Inspiration's bridge equipment is the suspected reason for why the ferry collided with its berth, said Ferries spokeswoman Deborah Marshall.
The ferry was carrying about 350 passengers and 100 vehicles.
At Duke Point, there's damage to several structures. "The wing wall fender panel, the lower apron hinges, the ramp tower, the lower apron, and so on," said Marshall. "There's quite a shopping list of pieces of equipment there that have the same damage that either need to be replaced or repaired."
Coastal Inspiration's bow doors were damaged and it requires a new link arm, which is a large steel hinge that allows the doors to move, Marshall said.
The part has been ordered from Europe, but will have to be fabricated, shipped over and installed, leaving Coastal Inspiration out of commission for about a month.
No repair costs were available.
Initial reports indicated one crew member and two passengers suffered minor injuries, but by Wednesday afternoon a dozen minor injuries had been reported. None of the eight injured passengers and four injured crew members required an ambulance.
Duke Point normally provides sailings to and from Tsawwassen and takes truck traffic. It opened in 1997 to reduce the load on Departure Bay, where waiting vehicles spilled onto the Stewart Avenue approach during busy periods. Departure Bay provides service to and from Horseshoe Bay.
Until repairs are finished at Duke Point, all of its sailings are shifting to Departure Bay, B.C. Ferries said. No sailings that normally come and go at Duke Point have been cancelled.
Because of the additional sailings, travellers can expect a significant increase in traffic at Departure Bay and limited parking, especially during the upcoming Christmas holiday weekend. "If you are travelling as a foot passenger, we are obviously limited with the parking at Departure Bay, so we are suggesting customers either take public transit or that they get dropped off at the terminal by a family member or friend," said Marshall.
In addition to greater congestion on residential streets near Departure Bay, more truck traffic is expected to roll through Nanaimo to reach the terminal.
Ken Murphy, manager of Nanaimo's Mid Island Towing and Transport, anticipates longer waits. "This is going to cause serious problems, there's no doubt," he said. "At $185 an hour for the tractor to just sit down there in the lineup and wait until we can get on a boat ... you can't bill for just sitting there waiting for a ferry."
Each year there are an average of 12 "hard landings," as B.C. Ferries calls them, out of about 185,000 sailings, said Marshall.
This was Nanaimo's second hard landing in as many months.
On Nov. 18, the Queen of Coquitlam collided with a berth at Departure Bay terminal, but the damage was significantly less than in the Tuesday crash at Duke Point.
We thought you might also be interested in..