Rev. Al's Dandelion Society helps friendship blossom on the streets
Dec 23 2011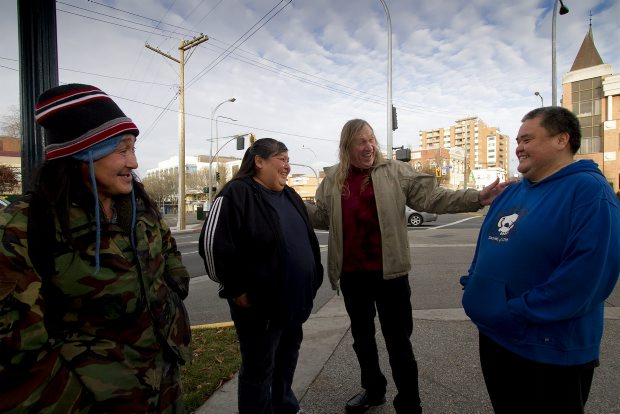 Rev. Al Tysick (second from right) on the streets of Victoria sharing a joke with, from left, Mits Turqtuq, Lorraine Andrew and Gerald Amos .
Photograph by:
Adrian Lam, timescolonist.com
Cigarettes are the currency of the street at 5:30 a.m. when, in corners, doorways and on the steps of downtown churches, the first stirrings come from those huddled in sleeping bags or under piles of blankets.
For many, waking on the street in the dark pre-dawn hours, the first cigarette is handed to them by Rev. Al Tysick.
"A smoke makes your morning get going. It's one more day of being born," said Roy Trotter, one of more than a dozen people waiting in front of the Seventh Day Adventist Church.
It's the day before welfare cheques are handed out and overnight street hangouts are crowded.
On the steps, some continue to sleep and the smell of stale alcohol hangs heavily in the air. Others look unexpectedly awake and alert.
"It's a beautiful day. We've had so many rainy nights," said John Roseborough, helping to unload the coffee urn from the back of Tysick's small car.
Men and women help themselves to coffee and doughnuts, and rummage through bags of blankets, socks and mitts.
"Al's beautiful. He's a great guy," Roseborough said.
The cigarettes serve as an instant calculator — one cigarette per person and, by 7 a.m., when Our Place opens for breakfast, Tysick has a good idea how many people slept on the street.
Two and a half packs on Tuesday morning, which is about average, said Tysick, who talks to between 40 and 60 people each morning.
Many are living with addictions or mental illness and will not go into shelters or are banned because of their behaviour. They rely on help from Tysick and his newly formed Victoria Dandelion Society.
"The real purpose of being out here is to get that connection with the street — the trust and consistency," Tysick said.
"Sometimes, all I can be is a presence in their lives."
KK, who does not use his full name, has a small room, but early in the morning joins friends on the street.
"It's not because of the doughnut and coffee and one cigarette that people come here," he said.
"People come here not to be alone. I have a friend and that's very important. I am very happy."
Tysick's rounds also serve as a check that everyone survived the night. At least once a week, an emergency trip to hospital is needed.
Until July, Tysick, 65, was executive director of Our Place and for two decades worked with Victoria's homeless, addicted and mentally ill.
The 80-hour weeks were starting to take their toll but, more importantly, Tysick knew his true calling was to help those falling so deeply through the cracks that they were no longer visible.
The Dandelion Society is incorporated as a charity, with tax receipts issued through the Victoria Foundation. Tysick hopes to raise about $100,000 a year.
"I think that, if you are doing something worthy and beneficial to the community, you are going to be supported. If you are not supported, it doesn't deserve to live," he said.
Tysick will not ask for government funding.
"It quiets you. Your lips are sealed," he said.
On the street, groups congregate according to their addictions. Tysick approaches the crack cocaine group with care.
"If there's going to be an altercation, it will be here," he said.
Crack is becoming more prevalent than injection drugs because it is cheap and available, he said.
With first light, as street sweepers and garbage trucks rumble into action, and runners and dog-walkers appear on the sidewalk, the downtown complexion changes.
With his rounds complete, Tysick prepares for a day of searching for housing for the ultra-hard to house or helping someone illiterate negotiate 58 questions on a welfare application form.
Tysick will hold a half-hour candlelight vigil at midnight Christmas Eve on the legislature lawn to bring attention to poverty across Canada. He hopes others will join him.
"But I think it's going to be raining. It may be just me," he said without a hint of discouragement.
To donate to the Dandelion Society, phone
778-440-1471 or go to dandelionsociety.ca.
jlavoie@timescolonist.com
We thought you might also be interested in..