Ferry "couldn't slow down" before crash
Dec 23 2011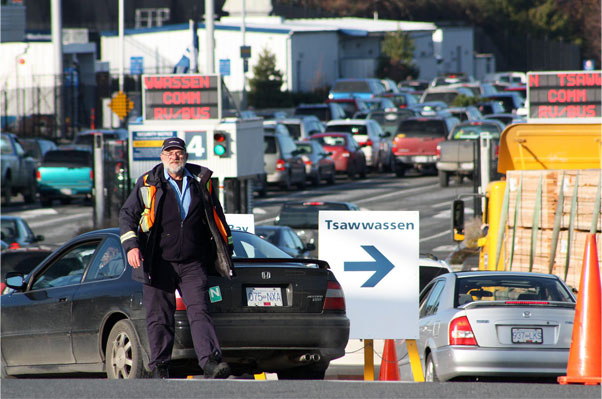 A ferry worker directs traffic outside the entrance to the Departure Bay ferry terminal on Thursday. Traffic was heavily backed up for sailings to Tsawwassen, but B.C. Ferries employees were praised by passengers for their organization of vehicle traffic.
Photograph by:
Matthew Gauk, Nanaimo Daily News
Coastal Inspiration was traveling at about five knots — 9.3 kilometres an hour — when it smashed into the B.C. Ferries dock at Duke Point terminal Tuesday, causing severe damage to the vessel and ramp.
The speed is faster than usually seen when a ferry has a hard landing, B.C. Ferries spokeswoman Deborah Marshall said Thursday. An "electronic failure affected the pitch (of the propeller), so they couldn't slow down," she said.
Despite the collision speed, only minor injuries were reported.
"We have four employees who did have some minor bumps and bruises and eight passengers who have reported minor injuries," Marshall said.
The captain and most crew members are continuing to work, she said.
Although an electronic failure in Coastal Inspiration's bridge equipment appears to be the cause of the accident, there will be a full investigation to see if there were contributing factors, Marshall said.
Coastal Inspiration, which was carrying about 350 passengers and 100 vehicles when the collision happened, is now in Esquimalt Graving Dock waiting for repairs. It is not known how long that will take and a large steel hinge for the bow door, which was damaged beyond repair, has to be ordered from Europe, with a lead time of three weeks, Marshall said.
The ferry, launched in 2008, was built in Germany.
At Duke Point, the dock will take several months to repair, and the terminal will be closed during that time.
The ramp was pushed back, with damage to hydraulic and electrical systems, in addition to heavy damage to the wing wall fender panel and lower apron hinge, Marshall said.
B.C. Ferries averages a dozen hard landings annually and there have been 10 this year, Marshall said.
Although the number is marginally down, four have caused significant service disruptions, she said. "But keep in mind we do 185,000 sailings a year," she said.
All Duke Point sailings have been transferred to Departure Bay.
Nanaimo is bracing for traffic disruptions as vehicles which normally head for Duke Point are diverted to Departure Bay. To help deal with the increased traffic at Departure Bay, B.C. Ferries has stationed traffic controllers on the Stewart Avenue approach.
Traffic was heavy Thursday, with waiting vehicles spilling onto Stewart; some sailings were delayed because of the congestion.
The week between Christmas and New Year is likely to be the busiest, Marshall said. "I suspect it will be like a typically busy day in August. We'll do our best to minimize the effect on the community, but there will be extra traffic in the Nanaimo area," she said.
However, drawing extra people into downtown Nanaimo could have benefits despite the traffic congestion, said Wally Wells, chairman of Nanaimo Chamber of Commerce.
"It could be good," said Wells. "Maybe they will stop and spend a little of their money here."
But Nanaimo Mayor John Ruttan has difficulty seeing the benefits.
"Traffic will be a nightmare," said Ruttan, who hopes already-stretched city staff and police will not have to sort out the mess he expects to see over the Christmas holidays.
"Our engineer is trying to work with B.C. Ferries and they are working with the province to try and find a solution," he said.
If vehicles are stacked along Stewart Avenue for hours, there could be problems with a lack of washrooms and food services, but it is unlikely people will leave their cars and go shopping, Ruttan said.
"When you are driving for a ferry, the first thing you want to do is get your car in line and then I don't think you'd leave it in the middle of the street and go shopping," he said.
jlavoie@timescolonist.com
We thought you might also be interested in..