Happy 111th birthday — Merle will drink to that
Dec 24 2011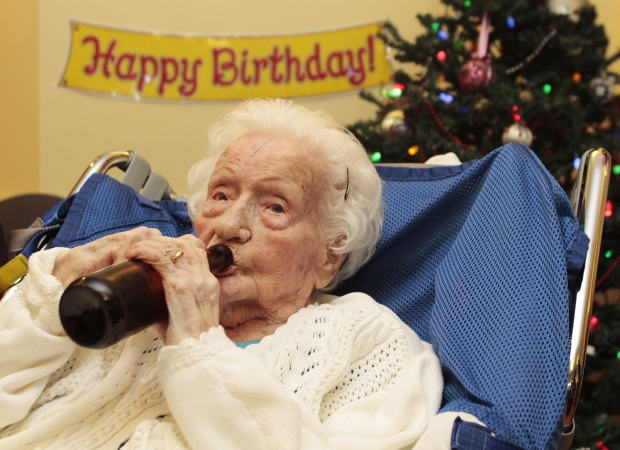 Merle Barwis celebrated her 111th birthday with a beer Friday at the Priory Hospital in Langford.
Photograph by:
Lyle Stafford, Victoria Times Colonist, Dec. 23, 2011
Merle Barwis is looking forward to Christmas — for the 112th time.
At her 111th birthday party Friday at the Priory Hospital in Langford, Barwis was surrounded by her grandchildren, great-grandchildren, great-great-grandchildren and a few old friends.
"I'm pretty sure I'm the oldest person in the Dominion," she said.
"How do you feel about that?" asked Barwis's great-granddaughter Tara Lajeunesse.
"I don't care. You can't stop it," the centenarian replied. "If you feel good, okay. It's all right,"
Grandson Richard Barwis offered her a beer, her favourite drink, which she readily accepted. She prefers Alberta Pilsner, he explained, but you can't buy it in B.C.
"How's the beer Grandma?" asked Lajeunesse.
"It's pretty good."
"Does it keep you young?"
"I don't think so," laughed Barwis.
The hand that lifted the beer bottle was a little shaky, but Barwis's sky-blue eyes twinkled as she watched the little kids skip around the room.
At 111, Barwis may be the oldest person in the province. B.C. Stats could not confirm the information due to privacy concerns. But a friend, working for the B.C. Pension Corporation, told the family that Barwis is the oldest one on their roll.
Her life began in Iowa on Dec. 23, 1900. Then Barwis and her family moved in a horse-drawn wagon to the small prairie town of Abbey, Sask.
Horses were her life. Her father was a horse rancher who had her in the saddle by the time she was three. Her heart was won by a ranch hand named Dewey Barwis. When she met him at a local dance, she decided she liked the look of him. Her parents didn't like him at first —until he tamed a horse that nobody could ride.
They married in her parents' parlour in 1923. During their 40 years together, they had two sons and a daughter.
In the early 1950s, they moved to Sooke where their son was in the navy.
Although she has lived for more than a century, through world wars, moon landings, the invention of airplanes, automobiles, cellphones and computers, Barwis said the most amazing thing she did in her life was ride horses up in the hills every day.
"That's what I did back then. Nothing special."
At the party, daughter-in law Helene was feeling a little sad without her husband, Barwis's son Dewey, by her side. Dewey died three years ago.
"I'm feeling emotional. But I'm happy for her. They take good care of her here. That's special," said Helene.
Grace Potts-Coles, who went to school with Barwis's daughter, Esther, in 1943, was also at the birthday party.
"She's doing awesome. We have so many laughs," said Potts-Coles.
Longevity runs in Barwis's family. She has a sister who is 99 and another sister who is 94.
"We've got very good genes. But would I want to live to be that old?" wondered Lajeunesse.
She glanced across the room at her great-grandmother, at the centre of so much family love.
"If I have the family, yes. If I don't, no," she said. "Her memories and her life keep her content."
ldickson@timescolonist.com
We thought you might also be interested in..