Ferry deal aims to divert truckers
Dec 24 2011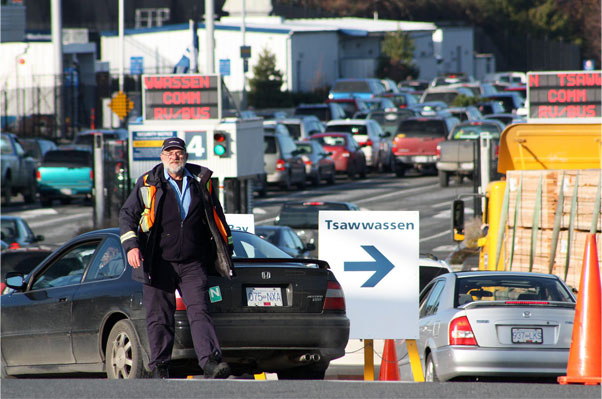 A ferry worker directs traffic outside the entrance to the Departure Bay ferry terminal on Thursday. Traffic was heavily backed up for sailings to Tsawwassen, but B.C. Ferries employees were praised by passengers for their organization of vehicle traffic.
Photograph by:
Matthew Gauk, Nanaimo Daily News
B.C. Ferries is hoping deep fare discounts will divert some commercial traffic to Swartz Bay during the holiday period in the wake of the Coastal Inspiration crash that has closed Nanaimo's Duke Point ferry terminal.
There will be a 50 per cent fare discount for commercial vehicles that travel the Tsawwassen-Swartz Bay route on Dec. 27 and Jan. 3, instead of going through Departure Bay at Nanaimo, B.C. Ferries spokeswoman Deborah Marshall said.
Marshall called the discount a traffic management tool.
"The reason why we're trying to do that is to divert some of the commercial traffic away from the Departure Bay terminal," she said. All Duke Point sailings have been moved to Departure Bay.
Marshall said Dec. 27 and Jan. 3 are expected to be particularly busy. "What you'll have is regular traffic, plus the commercial traffic is operating again. Normally during Christmas Day and Boxing Day, you don't get the commercial vehicles. But come the 27th, we expect that traffic to come back," Marshall said.
A commercial vehicle is defined as more than 5,500 kilograms gross vehicle weight. Louise Yako, president and CEO of the B.C. Trucking Association, whose membership operates between 13,000 and 14,000 vehicles, said she hopes her members take advantage of the offer.
"The reason that they're offering that discount is that they are suspecting that Departure Bay will be oversubscribed. It likely will be oversubscribed anyway because of the demand from passenger traffic. So this is a way to try to ease the burden for all of the users of B.C. Ferries," she said.
She said the same discount has been offered as an incentive successfully in the past.
If transport companies take advantage of the lower fare on those days, motorists in Greater Victoria can expect to see heavier truck traffic on the Malahat and along McKenzie Avenue to the Patricia Bay Highway interchange
Coastal Inspiration, carrying about 350 passengers and 100 vehicles, was travelling about five knots - 9.3 kilometres an hour - when it smashed into the B.C. Ferries dock at Duke Point terminal, causing severe damage to the vessel and ramp. The dock will take several months to repair and the terminal will be closed during that time.
With Departure Bay adding Duke Point's sailings, traffic has been heavy. Traffic controllers have been stationed on the Stewart Avenue approach to help deal with vehicles forced to wait on Stewart.
Investigators from the Transportation Safety Board of Canada are on Vancouver Island, beginning their examination of the crash. "It's not going to happen overnight. Investigations are complex things and we're going to take the time we need," said safety board spokesman John Cottreau.
The safety board team from Richmond will look at the ferry and interview B.C. Ferries staff, and will then analyze the information gathered and produce a written report outlining any safety deficiencies uncovered.
B.C. Ferries has said an electronic failure in Coastal Inspiration's bridge equipment appears to be the cause of the accident and an investigation will see if there were contributing factors. The ferry is in Esquimalt Graving Dock for repairs. It is not known how long that will take.
bcleverley@timescolonist.com
We thought you might also be interested in..