Victoria Rainbow Kitchen to set up shop at Esquimalt United Church
Dec 25 2011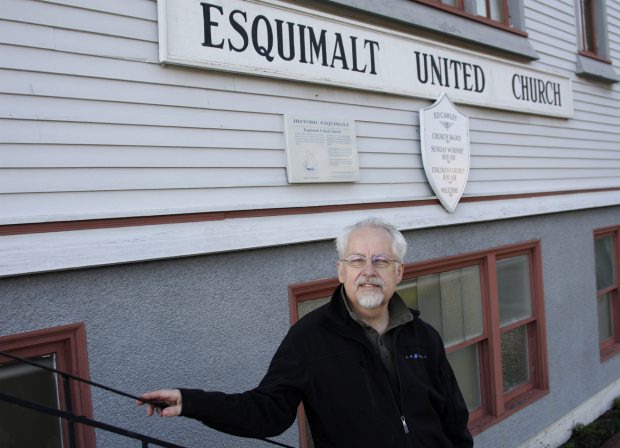 Al Lindskoog a director for the Victoria Rainbow Kitchen Society stands in the Esquimalt United Church in Victoria. (Dec. 2011)
Photograph by:
Lyle Stafford, timescolonist.com
Regular visitors at a Victoria West soup kitchen won't have to go without their free lunches for too long.
Victoria Rainbow Kitchen Society offered its last meal at the old St. Saviour's Church on Dec. 23 after the Anglican Diocese of B.C. announced the sale of the church at 310 Henry St.
About 125 eat at the church regularly. They will go without the hot lunch for about three weeks until society organizers set up shop in their new home at the Esquimalt United Church on Admirals Road.
Operating costs will be higher because the society did not have to pay rent at the St. Saviour's site, but additional fundraising will be needed to pay for the overall costs that will go up from $3,500 to about $5,000.
"Everything is doable," said Al Lindskoog, one of the society's directors. "We'll just have to work a little harder to raise the money."
The group also got a Christmas present from the Rotary Club of Victoria. A $20,000 donation will be used to upgrade the kitchen with new stoves and dishwasher.
"We have a couple household ranges that are not all that big and not as fast," Lindskoog said.
Finding a location away from Victoria's downtown was essential for the directors. Their clientele are largely from the Victoria West area.
"The downtown is serviced by several other organizations, so we wanted to make sure we still focussed on our clients," Lindskoog said.
The soup kitchen started 10 years ago, when members of the now-disbanded congregation identified the need for a food program in the area.
The program was taken over by Rainbow Kitchen after the diocese closed the sanctuary because of declining membership.
About 100 volunteers share shifts at the Henry Street site. A private investor has bought the property, which was listed at $850,000.
dspalding@timescolonist.com
We thought you might also be interested in..