Boxing Day crowds disperse quickly in capital region
Dec 27 2011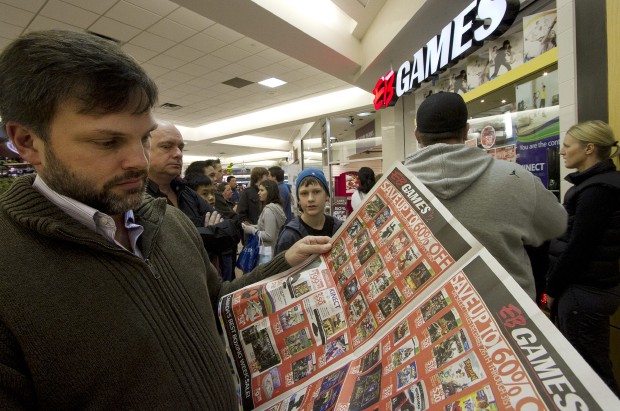 Shopper John Stevens checks out at Boxing Day deals Monday outside EB Games in the Mayfair Shopping Centre.
Photograph by:
Adrian Lam, timescolonist.com
Massive early-morning crowds for Boxing Day door-crasher sales in Greater Victoria dissipated within hours Monday. By noon, shoulder-to-shoulder crowds at stores were the exception rather than the rule.
When big-box stores like the Best Buy, Future Shop and Walmart at Uptown mall in Saanich opened at 6 a.m., there were lineups. By 9 a.m., though, the crowds had thinned, leaving some shoppers shaking their heads.
The growing popularity of online shopping, better pre-Christmas sales, increased competition, a weak economy and Victoria's laid-back attitude all contributed to the lighter crowds, shoppers and store staff said Monday.
"I was shocked when I walked in," said Catherine Wallace, 38, at Walmart. There was only one person ahead of her in the line for the cashier at 8:30 a.m., and some lanes to cash registers were open, she said.
"A regular Saturday is busier than this," Wallace said. "Maybe people are still sleeping. Victoria really doesn't wake up until 10 a.m."
Wallace said "unbelievable" sales at such stores as the Bay throughout November and December likely ate up dollars that might otherwise have been spent on Boxing Day.
About 9 a.m., Taylor Moon, 20, was outside Future Shop, watching as an employee loaded three flat-screen televisions into her car — one each for her mom, an aunt and herself. The 32-inch Sony Bravia she bought on sale for $329 was advertised at the same price by Best Buy and was at Walmart for $328 (with a limit of one per customer).
British Columbians normally lead the way in barrelling down retailers' doors on the day after Christmas — a Canadian tradition — according a poll conducted by Ipsos Reid for Visa Canada.
A deal-hungry 28 per cent of B.C. residents were expected to seek out Boxing Day sales, the credit-card colossus said in a pre-Christmas press release, beating the national average of 23 per cent.
Canadian shoppers said they were planning to spend an average of $243 each on Boxing Day sales, many of which last all week.
Meanwhile, online shopping continues to appeal to many, the poll indicated. Half of Boxing Day shoppers expected to shop from home or via handheld devices. Women were more likely than men to go online to shop (55 versus 45 per cent).
In the capital region, Manning Biring, 26, wanted to pick up his 47-inch LG flat-screen 3-D television in person at Best Buy Monday. He said he saved $200 and was excited about being able to go home and set it up immediately.
"This year might be a little slower than the last few years, but people are still buying and consuming," Biring said. "I was waiting for the right deal."
At Mayfair Shopping Centre, Jason Rombough, 18, lined up outside EB Games, where he hoped to buy the video game StarCraft II. He said he went to Best Buy at 6 a.m. but the game had sold out.
However, while at the store, the Rombough family still managed to buy three computers, saving a couple of hundred dollars on each, said Bill Rombough, Jason's father.
"It sucks to wait until Boxing Day but it's worth it," Jason Rombough said.
Several stores in the Mayfair mall advertised sales of 50 per cent off and more, and even coffee shops had long lineups. Some stores had staff assigned to crowd control.
Still, Jessica Norman, at Toys R Us with her two-year-old son in tow, expected bigger crowds. "I'm surprised," Norman said. "I thought it would be much busier, with everyone trying to get great deals."
Sidewalk traffic on Government Street in downtown Victoria was hopping, with some stores entertaining a crush of shoppers — including Outlooks For Men on Yates Street, Lululemon on Johnson Street, and both Roots and Bryan's Fashions on Government Street.
On Yates Street, Nigel Leadbitter, 22, picked up a new winter coat at the Philip Nyren clothing store. Leadbitter had seen the coat before Christmas but waited until Boxing Day to save $200.
Store owner Nyren was on the sales floor assisting customers.
"When it's crazy busy, I like it the best," Nyren said. "Everyone is in a good mood ... and because it's busy, everyone is more patient."
Around Canada, many shoppers spent the day bargain-hunting.
At a Best Buy outlet in Ottawa, more than 1,000 people waited in the cold to take advantage of Boxing Day sales, surprising the sales staff, who said they had expected half that number.
Some people — looking for deals on televisions, laptop computers and personal video recorders — had stood in line since 1:30 a.m., waiting for the store's 6 a.m. opening. Twenty minutes after the store opened, the queue outside had disappeared, though shoppers continued to arrive throughout the morning.
Over at Ottawa's St. Laurent Centre shopping mall, there was a casual atmosphere, with no significant crowds lining up or even walking around.
In downtown Vancouver, shoppers lined a full city block, waiting for a Future Shop outlet's 6 a.m. opening. People sipped coffee, and many lounged in lawn chairs.
"The first person got in line at 8 p.m. last night," store manager John Kennedy said.
ceharnett@timescolonist.com
— with files from Postmedia News
We thought you might also be interested in..