Big chunk of Old Town listed for $7.75 million
Dec 27 2011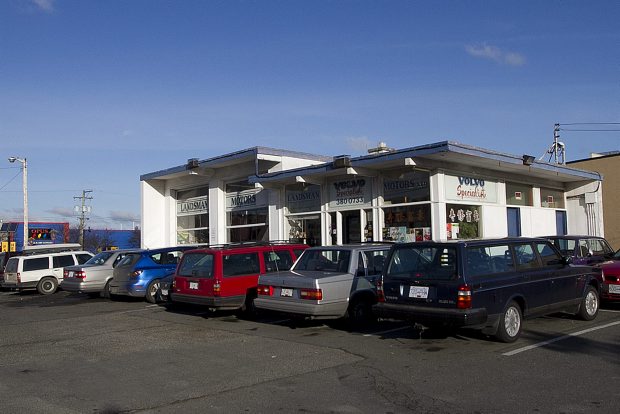 The property listed for sale includes a large parking lot that takes up most of the site, but several structures as well.
Photograph by:
Adrian Lam, timescolonist.com
One of the largest development sites in the north end of historic downtown Victoria has been listed for sale at $7.75 million.
"It is a very critically important piece of property in terms of how it is developed and I wondered for years whether it would ever come on the market," Victoria Coun. Pamela Madoff said.
The 5,370-square-metre property runs a full block north to south on Store Street, and fronts Herald Street on the north and Fisgard Street to the south, taking up about a quarter of the entire block. Most of the site is a parking lot; there is also a vehicle service business on Store Street, plus Barclay's Exchange Inc. at 516 Fisgard St., the property's largest structure. The buildings total about 1,061 square metres.
"I know there's been all kinds of thoughts about it over time," Madoff said of the property. "There's been people who have dreamt about what might be there. There's people who looked at it a little more practically. There are some folks who think a Chinese garden would be fantastic, but of course, when it comes down to land acquisition, that turns it into a whole other scenario."
Madoff, a heritage advocate, said it's likely that a site-specific zone would be created for the property. It is part of Old Town and Chinatown and is within a historic commercial district.
"The right purchaser with the right sense of what is appropriate could come up with a really stunning development here."
With Anthem Properties' new Union 133-unit residential project going up nearby in the 500 block of Pandora Ave., development of the Store Street property "really offers an opportunity to start knitting that part of Old Town back together," she said.
New construction and renovation in this part of the city have created condominiums, popular restaurants and burgeoning home decor and other retail, bringing new life to the area. "That part of town has become so busy," Madoff said.
Ground-floor retail would be required for a project on this site, similar to other developments, and possible uses include offices, condos or rental apartments, she said. "There's a whole menu of things that would work."
The property went on the market in recent days and is listed with Colliers International's Victoria office. B.C. Land Title Office records list the owners as HLP 888 Investment Ltd., Ronald and John Lou-Poy, and Linda Ng, all of Victoria, as executors of the will of the late Henry Lou-Poy.
Its listing describes it as "arguably one of the last great development sites in downtown Victoria."
Michael Miller, a vice-president with Colliers, said, "It is such a unique property given its scale," adding that larger sites can attract developers who might not normally come to Victoria.
cjwilson@timescolonist.com
We thought you might also be interested in..
Notice
: Undefined index: event in
/home/viccity/public_html/v2/content.php
on line
67