Girl in hospital after being hit by truck mirror
Dec 28 2011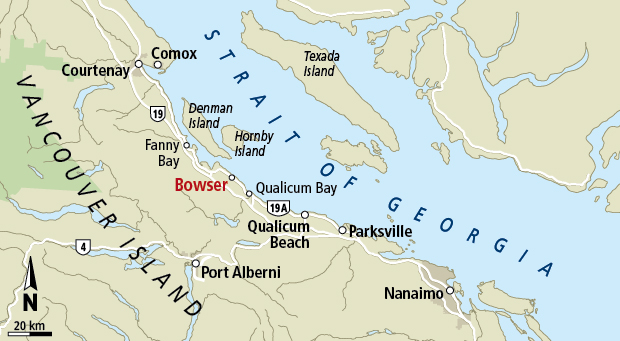 .
Photograph by:
., .
An eight-year-old girl who was hit by a passing pickup truck north of Qualicum Beach Monday is in serious but stable condition at B.C. Children's Hospital in Vancouver.
The hospital confirmed the girl's condition, but the family has asked for privacy and the girl's name will not be released, said spokeswoman Papinder Rehncy.
The girl was standing on the sidewalk of a bridge on Island Highway West, near the Qualicum First Nation Campsite in Qualicum Bay, when she somehow slipped back onto the road and was struck by the side mirror of a passing truck. The speed limit on that stretch of highway is 70 km/h.
"She either tripped or backed up without noticing she was close to the edge and fell into the vehicle," said Steve Anderosov, chief of the Bow Horn Bay volunteer fire department, who also responded to the scene.
"The sidewalk is quite wide there, it's just unfortunate she got backed up far enough to slip off of it."
The girl was with family members at the time, said Anderosov. They'd stopped to look at the fish in the Big Qualicum River. The two-lane bridge, part of the old Island highway, runs over the river.
Oceanside RCMP Cpl. Asaf Chaudhry said police are still not sure why the girl fell off the sidewalk.
"It's still under investigation," he said.
RCMP previously said there was no way for the truck to avoid the girl, and speed and alcohol were not factors.
"It looks like he couldn't have avoided her," said Chaudhry.
After the girl was hit, she was flown by air ambulance to B.C. Children's Hospital.
Anderosov said he examined the sidewalk of the bridge, and it appeared in good shape.
"There's nothing you can really do with those bridges," he said.
"I looked at it and thought, 'Gee why didn't they have a railing to keep people from falling into the traffic,' but that can wind up giving you problems too," said Anderosov, noting the narrow width of he bridge might prove a problem for larger vehicles if a rail was in place.
There were reports the child was from Burnaby and was in the area with her family visiting relatives over Christmas.
Coun. Darlene Wells, of the Qualicum First Nation, which runs a campsite near the bridge, said the girl is not part of the local first nations community. A number of local businesses and neighbours also said they did not know the family.
The hospital would not confirm where the family is from. The RCMP would only say they are not local residents.
rshaw@timescolonist.com
kderosa@timescolonist.com
We thought you might also be interested in..
Notice
: Undefined index: event in
/home/viccity/public_html/v2/content.php
on line
67