Victoria businessman Jack Tang touched many lives
Dec 28 2011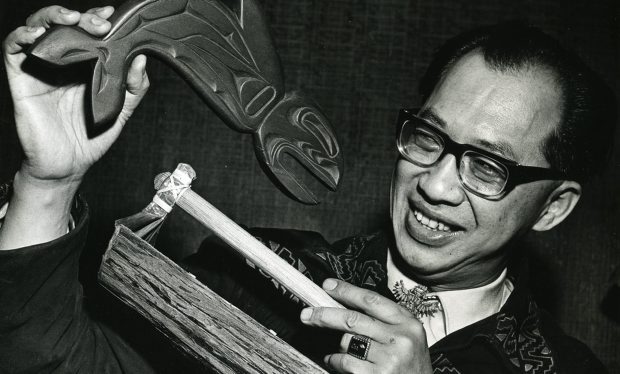 Jack Tang with some of the gifts he received after being made an honorary chief by an Alert Bay band in 1968.
Photograph by:
Robin Clarke, Times Colonist File
Jack Tang touched many lives and sparked countless smiles during his 92-year journey through life.
The Victoria-born charter member of the Chinatown Lions Club will be mourned at a service at McCall Bros. funeral home in Victoria on Thursday at 1 p.m. He died Dec. 21 at Glengarry Hospital after suffering a stroke recently.
Victoria Coun. Charlayne Thornton-Joe is among many who called Tang "Uncle Jack" and thought of him as family.
While his passing is sad, Thornton-Joe said she finds solace in knowing Jack is now reunited with his wife, Bessie, who died in October 2005.
"I've known Jack and Bessie all my life, and they were a strong influence on my life when it came to volunteering," Thornton-Joe said Tuesday.
"For me personally, Jack and Bessie have always been role models — I always remember their smiles and laughter."
For 50 years, Jack and Bessie operated Tang's Pagoda clothing store at 2624 Douglas St. Jack was heartbroken when he sold the building in October 2009 to Victoria developer Gerald Hartwig.
It's difficult to talk about Jack without talking about Bessie because they were inseparable, said Jack's nephew Derek Chow, a retired Victoria police sergeant.
Jack met Bessie through the Chinese-Canadian Youth Forum, which existed from 1939 to 1946 and produced shows to raise money for charity.
"They shared a passion for community service and Chinese drama," Derek Chow said.
They married in September 1942.
Tang's longtime friend, Ed Chow, remembers when Jack and Bessie opened the doors of their store to a Victoria family whose clothes were damaged in a house fire. The Chinatown Lions also footed the bill for drycleaning the clothes that could be saved.
"One thing I know about Uncle Jack is he always had a positive attitude," said Derek Chow.
Jack Tang loved to twist long balloons into various shapes to delight children. On a trip to China, Ed Chow said Tang seemed to have 1,000 balloons stuffed in his pockets and was ready to entertain young and old.
"If he made a special bumblebee balloon or a parrot, it slowed him down a lot, so I ended up twisting a few balloons myself," said Ed Chow.
Tang got a chuckle out of his friend's awkward and laborious attempts at twisting balloons.
Derek Chow remembers being aboard a B.C. Ferries vessel and seeing a crowd of children toting twisted balloons. At the centre of the throng was Uncle Jack.
"Word had got around there was a man who was entertaining children. By the time we landed in Swartz Bay, Uncle Jack was almost out of breath from blowing balloons. That's the type of guy he was — all his coat pockets had balloons in them."
Jack was a member of Victoria Chinatown's first Boy Scout troop, formed in 1932.
Jack and Bessie supported Victoria's lantern festival and other educational displays of their Chinese heritage.
Growing up Chinese in Victoria wasn't easy in the early days because Asians were banned from places like public swimming pools. Once those barriers came down, the Chinatown Lions organized swimming lessons for those in the community who wanted to learn.
Thornton-Joe said the Tangs supported her achievements. "With every success I've had in life, they've been among the first to phone and leave a message saying congratulations."
The Tangs' generosity benefitted causes such as cancer research and the B.C. Lions Society for Children with Disabilities.
"Jack and Bessie Tang were go-getters — they didn't ask for much, but they sure gave a lot," said Ed Chow.
Tang brought a wealth of experience and common sense to the Lions' projects, said Ed Chow. Tang believed Lions should "help others while you can and it will come back to you tenfold."
Tang's own reward was seeing people smile, Ed Chow said.
Tang's contribution to the community was noted when he was made an honorary citizen of Victoria.
Jack and Bessie Tang had no children. Jack Tang is survived by his brother Harry and sisters Jennie Lee, Beatrice Tang and Ethel Lee-Ott.
smcculloch@timescolonist.com
We thought you might also be interested in..