Council leaders reveal their to-do lists
Dec 28 2011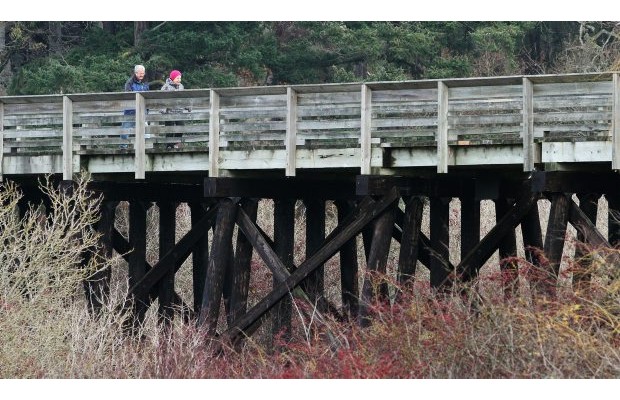 People enjoy a walk along the Lochside Regional Trail. Saanich aims to make its parks accessible to people of all abilities.
Photograph by:
Adrian Lam, timescolonist.com
The region's 13 municipalities came through the November elections with some new and some familiar faces. Times Colonist municipal reporters Bill Cleverley, Derek Spalding and Kim Westad asked the mayors what their priorities are for 2012.
CENTRAL SAANICH: DENSITY STUDY
While Central Saanich might seem like it's all fields and farms to non-residents driving through, the community has designated growth areas and is home to infill and carriage housing.
Residents prefer accommodating new growth through infill and more density in already developed areas rather than developing new areas.
But just how that should be done is a key priority for council in 2012, said Mayor Alastair Bryson.
Work on a residential densification study has started and will continue in 2012.
"Council is hoping that the study will help to identify which types of residential densification projects are appropriate for the built-up areas of Central Saanich," Bryson said.
Although residents prefer density over new development, they also had concerns abut the nature of the density and its impact on residential areas.
The study is intended to create guidelines or criteria for increased density to provide consistency in future development. The guidelines will also give direction to those who want to add density as to what might be considered appropriate development, Bryson said.
Council will be looking for broad community input on the study and had hired a consulting team to provide planning and public consultation services for the study. A public workshop is to be held early in the new year.
Another top priority for the year is completing new and updated servicing agreements with both the Tsartlip and Tsawout First Nations. Bryson said both First Nations want to pursue economic development on their land bordering Central Saanich.
COLWOOD: CUTTING COSTS
Colwood is one of several West Shore communities carefully scrutinizing budgets in an attempt to cut costs and reduce the tax burden on property owners.
Mayor Carol Hamilton said there will be no significant changes to the city's operations, but she wants to ensure that every dollar spent is "well justified."
She also pointed to a few projects that she and her council will have to support in the next 12 months and beyond.
Developers of the $1billion Colwood Corners project will break ground on the first phase of development early in the new year. This portion of the development will cost more than $250 million and include 800,000 square feet of residential and commercial space.
"Not only have some businesses been displaced from their usual locations, but then there's the inconvenience with construction that stops you from getting to places that are open. It's important to get it underway and see some significant progress," Hamilton said.
Colwood council has already met with the Sooke School District to discuss plans for the innovative multimillion-dollar performing arts centre that will be attached to a new school planned for the 172hectare Royal Bay property. Those talks will continue this year with plans to see a new high school built within four years.
ESQUIMALT: TRAFFIC
Transit and transportation will have to take centre stage in Esquimalt in the new year, specifically moving traffic through the Admirals Road corridor, says Mayor Barb Desjardins.
"We, as a region, have to get a handle on it, and we are in the process in Esquimalt of having major impacts in terms of increases to a very narrow corridor coming into Esquimalt, which is coming to Dockyard and the base [CFB Esquimalt]," Desjardins said.
It's difficult to gauge how much of an impact a recent change to base standing orders reducing the number of people allowed to stagger their hours has affected the situation, Desjardins said. Regardless, with the growth of the shipbuilding industry at Seaspan, there is going to be more and more pressure on the corridor, she said.
"That addresses the whole regional West Shore to downtown stuff, too. Everybody funnels in and a lot of them drop off here in Esquimalt so we as a community have to be responsive to that but we can't do it by ourselves. We have to do it regionally," she said.
"That, to me is probably the most important thing for our region because we are losing productivity. And when we lose productivity, that is not good for the region."
Desjardins noted it is also Esquimalt's 100th anniversary this year and the municipality hopes to ring it in well.
HIGHLANDS: INFRASTRUCTURE
Two major infrastructure projects need to be addressed immediately in the Highlands district. The small community needs to complete construction of a new community hall by March 2013 to take advantage of a grant from the federal government, and there are plans to replace one of its aging fire halls.
Council has identified a parcel of land at the intersection of Finlayson Arm and Millstream roads. The specifications for the project are already mapped out, which leaves the politicians with a public consultation process before moving ahead. Meetings will be held early in the new year, according to Mayor Jane Mendum.
"There's been a task force working on this and we have a list of what we would require, so we're ready to go. We just need public approval before we do anything," she said.
Federal infrastructure dollars are available to the tune of $400,000. Construction of a new fire hall could start this year as well.
Council has to either upgrade the East Highlands fire hall or replace it with a new building. Approval for the project was given more than a year ago, so moving ahead this year is easily achievable, Mendum said.
LANGFORD: JOB CREATION
Creating jobs and making Langford an even more affordable place to live will be top of mind for longserving Mayor Stew Young.
There are a few key projects in the works that require some significant ground work in 2012 to help him achieve those goals.
Young wants to see rapid progress with the construction of the Langford interchange. Delayed work on the project, which became known as the road to nowhere, has stood as a symbol of a soggy housing market during the recession. But Young expects construction on the interchange will go to tender by spring.
He and his council are also hammering out a deal with the YMCA to construct and operate a new pool, expected to cost about $20 million, which will be one of the final components of the popular City Centre Park. Council also intends to hold a planning session in February, which will bring in international experts to help the city outline a fiveyear plan for job creation.
"We want to be aggressive. We want to go after jobs, not just wait for something to happen," Young said. "That means the government has to move as fast as the business community does."
METCHOSIN: SECONDARY SUITES
Legalizing detached secondary suites in Metchosin is the first major task taken on by the new council.
Mayor John Ranns applauds his council for tackling the issue that, he says, has been dodged by several councils.
The lengthy debate over detached secondary suites was finally put to rest in a referendum during the Nov. 19 election.
But the narrow "Yes" vote (52 per cent) forces the politicians to tread carefully as they create a bylaw that will put the issue to rest.
Council has already met to discuss plans for a bylaw and could have a draft ready by March.
Many of the municipality's bylaws require updating, which is another priority for Ranns. "A lot of our bylaws are fairly old and wouldn't stand any sort of court test," he said. "We want to modernize them to ensure clarity."
Ranns also wants to continue with his community's experiment with blending highway maintenance with its volunteer fire department. The municipality hired two volunteer firefighters to do maintenance work during the day.
If a call comes in, the workers leave the job to respond.
NORTH SAANICH: SANDOWN LAND
A top priority for North Saanich is the very issue that highlighted the apparent 4-3 split on the newly elected council.
The future of the Sandown racetrack lands is top of the list, said acting Mayor Elsie McMurphy. (Mayor Alice Finall had left for the holiday before the Times Colonist asked for the 2012 priority.)
"If the Sandown lands are acquired by the municipality, council will engage residents in discussions of how they want to see the agricultural future of this tremendous opportunity realized," McMurphy said.
During the last term, council worked with the owners of Sandown and came up with a plan for a landswap that would see the majority of the 33.5 hectares given to North Saanich for agricultural with another 4.8 hectares rezoned for commercial use. While the previous council viewed it as a "win-win" situation, the new council split 4-3 this month, opposing moving the plan forward.
Two of the councillors voting against proceeding were Dunstan Browne and Craig Mearns, who had voted in favour of it last term. They said there are too many unknown costs to move forward yet. Bill Randall, the landowner, said he'll sell it off as large residential lots if North Saanich doesn't proceed. He has given the municipality until mid-January to come up with a response.
Other priorities are a review of the Official Community Plan and development of the district's budget and tax rates for the year, McMurphy said.
OAK BAY: TRANSPORT AND DEER
From transportation to deer management to community planning, there's no shortage of issues in Oak Bay, says Mayor Nils Jensen.
"The challenge will be creating a balance between what we'd like to do and what we can afford to do in what are clearly uncertain financial times," Jensen said.
"During the election, there were all kinds of innovative ideas of what we can do in Oak Bay over the next year or so, but we have to weigh that against making sure our budget comes in to reflect frugality and financial responsibility. That's going to be the big challenge."
It doesn't matter what the issue is, be it deer management, transportation planning for walking and biking, environmental issues or community planning, they all cost money, Jensen said.
"I think there's a desire to move forward on those fronts but we have to keep in perspective that we need to be fiscally responsible."
The upcoming review of the municipality's official community plan will dominate the agenda over the next year or 18 months.
"I think that's something everyone in the election heard loud and clear. We need to update our vision of Oak Bay as is contained in the OCP."
The review will include policies covering everything from secondary suites and multiple-family and townhousing to environmental initiatives.
SAANICH: FINANCIAL REVIEW
Mayor Frank Leonard's top priorities for 2012 sound a lot like the campaign platform that got him elected again in November.
Leonard focused on affordability and access then, and in the outline of issues that will face council in the new year.
A financial-plan review will be carried out in 2012, one that he said will likely be challenging for council.
"While all of us want to be optimistic about our economy, we will need to be realistic in our budget meetings," Leonard said. "Continuing the focus on infrastructure replacement will mean striking a balance between the need to continue increasing capital spending while keeping operating costs and service levels in check."
Housing affordability is also an issue for the region's largest municipality. The Mount View Heights development opened last year, with several other components of the campus of care to open in 2012. The site is home to families, seniors and people who have been homeless, all provided with housing. The site will also have facilities for people with dementia as well as market value housing.
Making Saanich's many parks accessible to people who have difficulties with stairs or natural terrain is also a priority, Leonard said.
"I'll be looking for ways to reduce the barriers that may limit access so that residents of all abilities will be able to experience our parks and open spaces."
SIDNEY: MORE TOURISTS
Sidney town council has several projects for 2012, including coming up with tourism strategies now that a new lease has been signed with Washington State Ferries for the Sidney-Anacortes ferry terminal.
The council also wants to complete the overhaul of Iroquois Park and find ways to create low-cost housing for first-time homeowners.
Mayor Larry Cross sees the Anacortes ferry as a top priority. The two-term mayor signed a 20-year agreement with Washington State Ferries on Christmas Eve.
Cross will work with others in the community to promote the town to tourists.
Council also expects to have workers complete changes to Iroquois Park. The $2-million improvements will provide a change-room building, a water park, a small putting green, an all-purpose athletic park and a new public building, which will be home to the Sidney Lions Food Bank.
A public consultation process will also begin in February for changes to the town's zoning bylaw, Cross said.
The goal is to create alternative housing to provide affordable homes for workers.
"We already have secondary suites, but we need to do more," Cross said.
SOOKE: SPENDING CAP
Capping spending at 2011 levels while preparing for anticipated growth in Sooke remains the No. 1 priority for newly elected Mayor Wendal Milne.
The former police officer wasted little time after the Nov. 19 election moving ahead with crucial campaign promises to review city spending. Residents can expect more of that in 2012 as he and his council get the city's "financial house in order," he said.
Milne will also review agreements with the Prestige Hotel and the community's sewage-treatment operator in the coming weeks.
Changes to those deals aren't certain, but looking for ways to stretch public dollars means looking at every aspect of the budget.
Council will also consider delaying some of its capital projects and doing the work over a longer period to reduce the burden on the current budget. The city's road-maintenance contract is up for renewal soon and council has already decided to send it to tender.
"We're providing a basic service, but things are pretty competitive out there in the construction world right now, so it's a good time to be looking at those sorts of things," Milne said.
Despite the attempt to keep taxes at current levels, the mayor wants to improve core services, like investing in the downtown with new sidewalks and other improvements.
"We're trying to meet the desires of the community, but lower costs," he said.
VICTORIA: ECONOMIC GROWTH
Implementing Victoria's new economic development strategy will be the key challenge heading into the new year, says Mayor Dean Fortin.
"It does not mean that you accept every development that comes forward, because we know that the rich architecture that Victoria enjoys is what brings people here whether to live, visit or whatever," Fortin said.
"Bad developments will have a longterm effect on our tourism and ability to attract good quality companies," Fortin said.
Fortin said it's key that the city expand its revenue sources. "You want a better pool? We need to have density. If you want all these things, we need to have growth. Making that happen is the challenge."
The economic strategy, 18 months in the making, was a collaborative effort between the city, industry and major stakeholders around the region aimed at expanding the city's tax base and strengthening its economy. The plan focuses on 11 key initiatives, including maintaining and enhancing the city's role as the headquarters of the provincial government, strengthening the tourism, high-tech and marine industries and ensuring that the city is competitive in business and urban development.
VIEW ROYAL: BRIDGE WORK
Budgets, infrastructure and transportation stand out as the leading issues in the coming year, according to three-term View Royal Mayor Graham Hill.
Work on the Craigflower Bridge will begin this year, thanks to a $10-million federal funding investment. Figuring out how to create the least amount of disruption to traffic will be the biggest challenge, Hill said.
That's a tall order considering that the 78-year-old bridge carries about 18,000 vehicles a day, including 1,500 trucks, and is the main access for CFB Esquimalt and key commercial centres.
The most significant capital expenditure will be a new fire hall. Plans are in the works for a $5.5-million state-of-the-art emergency centre and construction will likely begin in the spring. The city has already bought a $2.5-million property at 333 Island Highway and plans to build a 17,000-square-foot station by 2013.
Like many communities, View Royal will be snipping costs from its budget this year. Hill said the budget review is a top priority and each councillor has to find ways to save public money.
"Overall, it will be cutting our coat to suit the cloth sort of thing," he said. "It's a matter of managing in a way that responds to rising costs."
We thought you might also be interested in..