Ferry waits slow holiday travellers
Dec 28 2011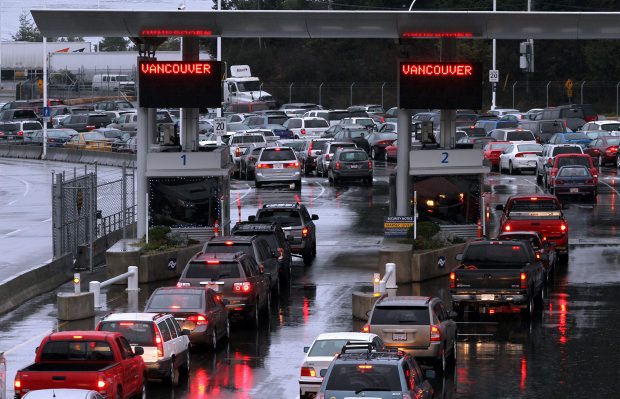 Vehicles pour into B.C. Ferries' Swartz Bay terminal Dec. 27, 2011, in what has become an annual tradition of post-Christmas lineups.
Photograph by:
Bruce Stotesbury, Times Colonist
Three-sailing waits held up holiday travellers on B.C. Ferries Tuesday, but there was little indication of an increase in commercial vehicles heading through Swartz Bay.
Passengers aiming for the 11 a.m. vessel from Swartz Bay had a single sailing wait and Departure Bay in Nanaimo had similar delays. By afternoon, there were three-sailing waits between Tsawwassen and Swartz Bay, dropping to two and one sailing by late afternoon and evening. Many sailings were behind schedule by about 20 minutes and B.C. Ferries cited traffic delays.
The waits were close to typical for this time of year, though Tuesday's traffic might be slightly higher than normal, a B.C. Ferries spokesman said. The corporation added two vessels and about eight sailings for each of the main terminals on Vancouver Island and the Lower Mainland.
Commercial vehicle traffic was low amid expectations that it would increase because Duke Point terminal is closed for repairs after Coastal Inspiration crashed into the berth last week.
B.C. Ferries offered a 50 per cent fare discount between Tsawwassen and Swartz Bay to divert oversized vehicles from Departure Bay, which has taken on Duke Point's sailings. The discount applied on Tuesday and will be offered again Jan. 3.
"You just never know what people will do from year to year," said B.C. Ferries spokesman Darin Guenette.
B.C. Ferries commercial services staff reviewed several years of data when they picked Dec. 27 and Jan. 3 to offer a reduced rate, Guenette said.
In Nanaimo on Monday, traffic was backed up for two sailings in addition to an afternoon vessel being behind schedule. Lineups returned to normal by 3 p.m. On Tuesday, the waits were up to two sailings. throughout the afternoon.
Holiday travellers were taking the lineups in their stride. Lea Campo was one of the passengers who missed the 11 a.m. sailing because the ferry was full. "We made a reservation last year and made it with no trouble, so this year we didn't bother. I guess we should have," she said.
By mid-afternoon, traffic for the Swartz Bay ferry to Tsawwassen was backed up past the Wain Road interchange.
dspalding@timescolonist.com
With a file from Postmedia News
We thought you might also be interested in..