VIHA wants to boost home help, ease waits
Dec 28 2011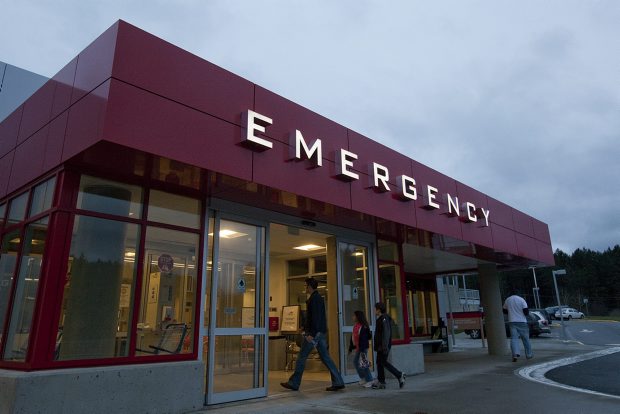 People walk into the emergency ward of the Victoria General Hospital in Victoria, B.C., on Dec. 27, 2010. The Vancouver Island Health Authority has said one of its priorities for the coming years is to ensure patients admitted through emergency departments get a hospital bed as quickly as possible.
Photograph by:
Arnold Lim, timescolonist.com
Vancouver Island Health Authority wants to reduce surgical wait times, increase home health supports for seniors, reduce hospital admissions for chronic diseases and ensure patients admitted through the emergency department get a hospital bed as quickly as possible.
The performance measures and others are contained in VIHA's service plan for 2011-12 and 2013-14, recently approved by the Ministry of Health Services. The plan describes how our aging population, the rising burden of chronic disease, mental illness and cancer, and advances in technology and pharmaceuticals are placing increasing demands on the health system.
At 18 per cent, the Island's 65-and-older population is higher than the provincewide level of 15 per cent. Three per cent of the region's population is over 84 and this portion is growing, especially in the Nanaimo, Parksville-Qualicum and Courtenay areas.
The need for health services rises with age. In 2006-07, people over 65 made up 14 per cent of the population but used 33 per cent of physician services, 48 per cent of acute-care services and 93 per cent of residential care services, the service report says.
VIHA is expanding home health care, with high-risk seniors a priority, the plan says. By 2013-14, the goal is to have 17.4 per cent of seniors over 75 receive some form of home health care, up from 16.8 per cent in 2009-10.
Chronic disease also causes a strain. People with chronic diseases such as diabetes, depression, high blood pressure, congestive heart failure, arthritis and asthma make up 37 per cent of the population and consume 80 per cent of combined physician payment, PharmaCare and acute care budgets, the report says.
VIHA is working with family physicians and other health professionals to provide more care at home to reduce hospital admissions of people with chronic conditions. The goal is to reduce the number of people admitted from 221 to 214 per 100,000.
VIHA's goal is to promote healthy living and disease prevention through food safety, clean air and water, infection control and communicable disease prevention. High-needs populations — aboriginal people, people with chronic diseases and the homeless — have been identified to help improve their health. One goal is to increase to 91 per cent, from 88, the number of aboriginal kindergarten children who have eye tests. Lazy eyes, crossed eyes and near- and farsightedness are common problems. Early detection will lessen the possibility of long-term damage.
New treatments have made health care more effective, but have also led to higher demand for services. Since 2001, the provincial number of CT exams has increased 90 per cent, MRIs are up almost 170 per cent, and hip replacements are up 71 per cent.
VIHA plans to track wait times for 20 surgeries with the largest number of people waiting.
These include hernia repairs, hysterectomies, sinus surgerys, cataract extractions, and knee and hip replacements.
"Expanded surgical activity and patient-focused funding, combined with continuous efforts to foster innovation and efficiency in VIHA hospitals will improve timely access to a range of surgical procedures," the plan says.
No one at VIHA was available for comment Tuesday.
In the coming year, VIHA will continue with plans to build new hospitals in Campbell River and the Comox Valley. The former Cowichan Lodge will be redeveloped as a psychiatric facility.
ldickson@timescolonist.com
We thought you might also be interested in..