Hardest part is feeling so helpless, says mother of missing geologist
Dec 29 2011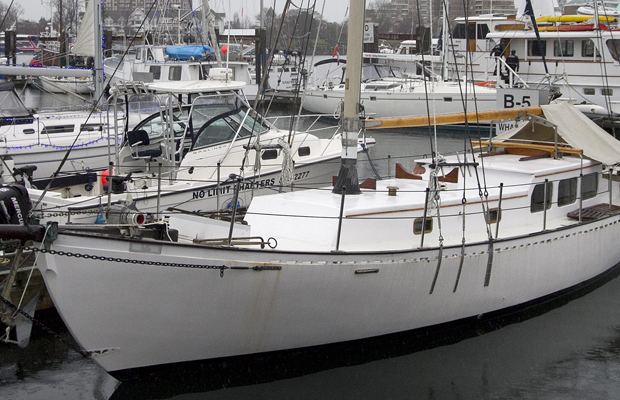 Matthew Huszar's boat moored in Victoria Wednesday. The name of the boat has been obscured at the request of the Huszar family.
Photograph by:
Adrian Lam, Victoria Times Colonist, Dec. 28, 2011
An unoccupied sailboat moored in a Victoria harbour is a sad symbol of Matthew Huszar's unrealized dream.
Matthew, a 25-year-old geologist, has been missing since midnight on Dec. 16. He vanished after leaving a company Christmas party in Gastown in downtown Vancouver.
His parents, Rod and Danny Huszar, of Shirley, west of Sooke, are asking for anyone with knowledge of their son's whereabouts to come forward.
So far, Vancouver police do not have any tangible leads.
Matthew had a longtime dream of sailing and had bought a 15-metre sailboat through Craigslist, his mother Danny said Wednesday.
"He's been slowly restoring it," said Danny.
Matthew's girlfriend, Emily Whittemore, who lives in Colorado, arrived in Vancouver Wednesday on her way to visit Rod and Danny.
Whittemore's trip to Vancouver had been planned some time ago, Danny said. "They were supposed to go skiing together."
With so much going for him, it's puzzling why Matthew would voluntarily disappear. And there is no evidence of foul play.
Danny and Rod, an optometrist in Sooke, are going through a difficult time.
"It's tough — you wake up every day and you say, 'I don't think I can do this anymore,' but you don't have a choice," Danny said.
"It's been a real nightmare. The hardest part is feeling so helpless and so frustrated."
She has confidence that the Vancouver Police Department is working hard on the case.
"I have faith they're doing everything they possibly can. It's really frustrating because nothing's broken, there's nothing to follow."
The community has rallied around the couple and Matthew's younger sister, Rachael, who is a student at the University of Victoria.
"The community has been extremely supportive," Danny said.
"They want to help in any way they can. It's frustrating because there's nothing they can do except express their thoughts and prayers."
The best thing for the public to do is report any possible sightings of Matthew, Danny said.
The area around Gastown where Matthew went missing has been canvassed, and police have questioned staff at B.C. Ferries. Matthew could have hopped on a bus or Skytrain and left the downtown Vancouver area, Danny said.
"He was given a cab voucher from his company that night to get home and he hasn't used that," she said.
Matthew is five-feet-11 tall and weighs 160 pounds. He has shoulder-length brown hair and brown eyes.
When last seen he was wearing a white-and-blue checked shirt, black dress pants and a dark green tweed coat.
A website has been set up to help in the search for Matthew. It can be found at www.findmatthewhuszar.ca.
smcculloch@timescolonist.com
We thought you might also be interested in..
Notice
: Undefined index: event in
/home/viccity/public_html/v2/content.php
on line
67