Cold-weather predictions all wet: forecaster
Dec 29 2011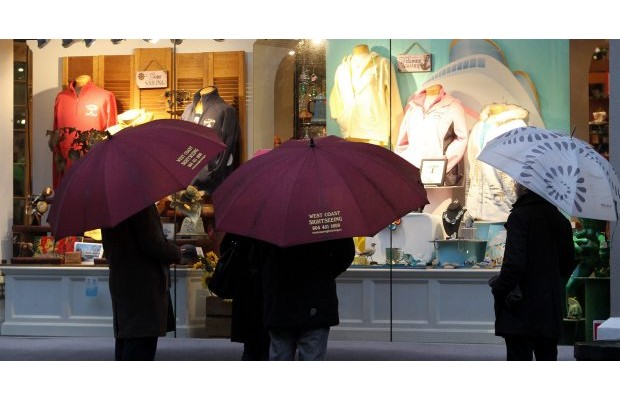 Shoppers brave the rain downtown on Wednesday. (Dec. 2011)
Photograph by:
Bruce Stotesbury, timescolonist.com
Weather forecasts calling for colder-than-normal temperatures from Vancouver Island to northern Ontario have been off the mark - so far.
"We said this was going to be the winter from hell, the winter from Siberia," Environment Canada senior climatologist David Phillips said Wednesday, noting American meteorologists predicted the coldest winter in 20 years across Canada.
"And it certainly hasn't been. It's like we've been sending search parties out looking for winter. You can't find winter west of Ottawa. Winnipeg is warmer today than Toronto. And Victoria is up to 13 degrees. It's absolutely sweaty weather."
The Environment Canada forecast for January and February now calls for near-normal temperatures for southern Vancouver Island, the Lower Mainland and southern and central B.C. Temperatures could be colder than normal from Nanaimo north, including most of northern B.C. and the Yukon.
The real story for Greater Victoria is how little rain has fallen in December on southern Vancouver Island, Phillips said.
By this time last December, 177 millimetres of rain had fallen in Victoria. This year, during the first three weeks, only 6.7 mm of rain fell, said Phillips.
Even with recent showers, the total so far for the month is only 44.5 mm.
"We still have a couple of days to go, but clearly it's going to be one of the driest Decembers on record," said Phillips, noting the normal amount of precipitation for the month is 155 mm.
The driest December was in 1985, when 23 mm of rain fell on Victoria.
This month, we've seen more sun and windstorms have been mostly absent, said Phillips. "There have been a few, but nothing compared to other years."
Temperatures have been close to normal, with average daytime highs around 7.2 degrees, just above the normal temperature of 6.9, said Phillips. The average night-time lows have been about 0.4 degrees, slightly below the normal of about one degree.
This year is a La Niña year, sometimes associated with cooler temperatures and more snow. Although Environment Canada's forecast at the beginning of December called for colder-than-normal temperatures, the West has seen temperatures five or six degrees warmer than normal, Phillips said. "It looks like La Niña is affecting the far north and the far reaches of B.C., but not the Lower Mainland or Victoria."
New Year's Eve in Greater Victoria should be a nice, balmy seven degrees with some sunshine.
"There's no weather to stop the revellers or douse the fireworks. The year is going to end on a wonderful note," said Phillips.
ldickson@timescolonist.com
We thought you might also be interested in..