Man dead, two injured in head-on crash on Malahat; highway closed for hours
Dec 29 2011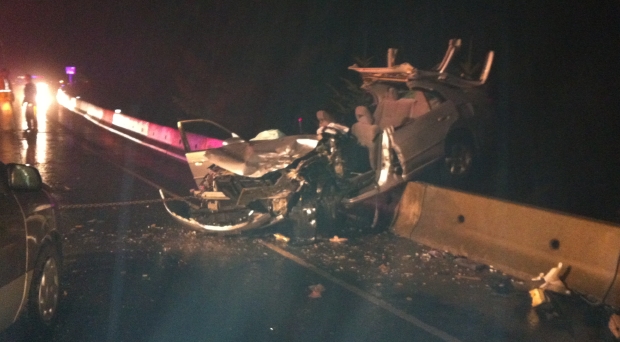 Three people were injured in a head-on crash on the Malahat on Wednesday. One vehicle ended up with its rear wheels hanging over an embankment.
Photograph by:
Malahat Fire and Rescue, Dec. 28, 2011
A three-car collision on the top of the Malahat Wednesday left a 76-year-old man dead and an injured woman trapped in her car as it teetered on the edge of a steep embankment.
Firefighters from Malahat Fire Rescue cut the male driver out of his van. B.C. Ambulance paramedics rushed him to Victoria General Hospital where he later died.
First responders also had to quickly stabilize the woman's Honda Accord as it balanced on a barricade on the eastern side of the highway.
"The whole back end of the car was over the bank," said Malahat fire Chief Rob Patterson, adding that the vehicle was perilously close to plummeting down the embankment. "We put a chain and cable on the vehicle to make sure it wasn't going anywhere, because it was moving."
Once the car was secure, firefighters cut the roof and doors off the badly damaged car and pulled the driver, a middle-aged woman, to safety.
Police believe the van sideswiped another car, crossed the centre line and collided head-on with the Honda at about 4:55 p.m. near the Malahat summit.
The driver of the Honda was taken to hospital with serious injuries; a female passenger in the van was taken to hospital with unknown injuries.
It is not clear if any occupants in the vehicle that was sideswiped were injured.
Patterson said it was yet another horrific crash that could have been prevented had there been barriers down the middle of the highway to separate traffic travelling in opposite directions.
"This is another one where the barriers would have prevented this," said a noticeably frustrated Patterson. "They're spending countless hundreds of thousands of dollars to put chain-link fences over the rocks to make sure they don't fall onto the road. I've been cutting people out of cars for a decade and a half and I've never seen rocks fall onto cars but I've seen countless cars go head to head."
The Malahat highway was closed in both directions until
9:30 p.m. as Shawnigan Lake RCMP and a reconstructionist from RCMP South Island Traffic services collected evidence, said RCMP spokesman Sgt. Rob Webb.
Police diverted northbound traffic along Shawnigan Lake Road. Southbound traffic was diverted at Shawnigan-Mill Bay Road.
Webb said the heavy rain is likely a factor. Police did not release the identities of the victims.
kderosa@timescolonist.com
We thought you might also be interested in..