Man wanted in connection with Darth Fiddler assault turns himself in to police
Dec 30 2011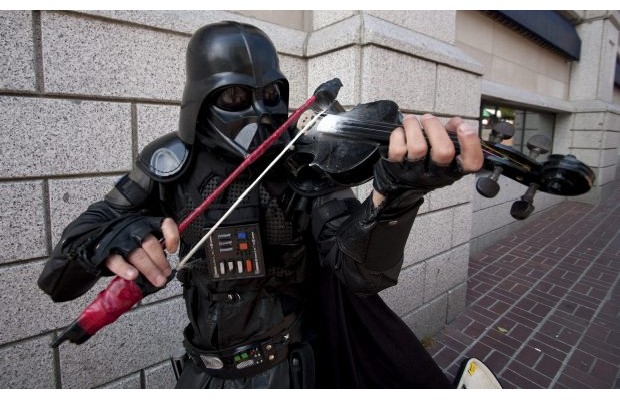 Darth Fiddler, one of Victoria's most popular buskers, plays downtown.
Photograph by:
Darren Stone, timescolonist.com
A Langford man, wanted in connection with an assault against Darth Fiddler, the violin-playing busker, turned himself in to authorities at the Victoria courthouse Wednesday.
On Dec. 19, Victoria police had issued a warrant for the arrest of Shane Michael Daily. He appeared in provincial court yesterday and is to appear again Jan. 11.
Randy McKenna, who has become a Victoria staple by playing his violin dressed as Star Wars villain Darth Vader in the Inner Harbour, was tackled as he played at the corner of Government and Wharf streets about 7 p.m. on June 11.
McKenna suffered minor injuries. His violin was damaged.
Police said there was no warning or provocation for the attack.
Police released surveillance footage from the Robbins parkade on Broughton Street that shows a man wearing a red T-shirt and jeans fleeing witnesses.
The attack resulted in an outpouring of support for McKenna including the gift of a new $500 violin from Larsen Music.
We thought you might also be interested in..