Man, 84, loses everything in boat fire
Dec 30 2011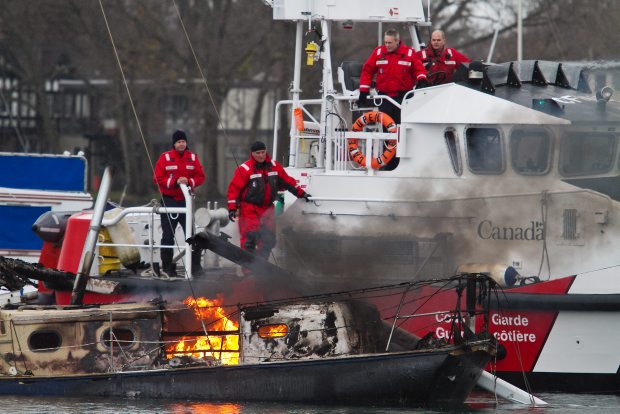 Canadian Coast Guard Auxiliary aboard the Cape Kuper attend a boat fire near the Oak Bay Marina. (Dec. 2011)
Photograph by:
Darren Stone, timescolonist.com
An 84-year-old boater lost everything when his vessel went up in flames and sank in Oak Bay Thursday.
The concrete-hulled vessel was reported on fire just after midnight. The lone resident, Fritz Schreiner, was taken off by a nearby boater, said Oak Bay Fire Capt. Ken Gill. He was treated in hospital for smoke inhalation.
The location of the vessel in the bay, north of Oak Bay Marina, is under the jurisdiction of the Canadian Coast Guard. The coast guard auxiliary let the fire burn itself out, said Gill, since the boat was not near other vessels and it was unsafe to board.
Terri Kambites, from nearby Beach Drive, said Schreiner had lived on the boat for years and had no insurance. Kambites believes Schreiner lost his dog, Lucy, in the fire. "He's a very lonely old man," Kambites said. Kambites is collecting donations of blankets, clothes and food for Schreiner.
Lanny Sawchuk, chief operating officer for Oak Bay Marine Group, said he has been warning officials for years about the dozen or so people who live on boats in the area.
"We've complained many times because of the potential danger [to the residents] and environmental danger," he said.
Coast guard officer John Millman said the sunken vessel is not an environmental risk but it will be assessed to see if it is a navigational hazard.
kderosa@timescolonist.com
ceharnett@timescolonist.com
We thought you might also be interested in..