Man killed in Tsartlip First Nation trailer fire
Dec 30 2011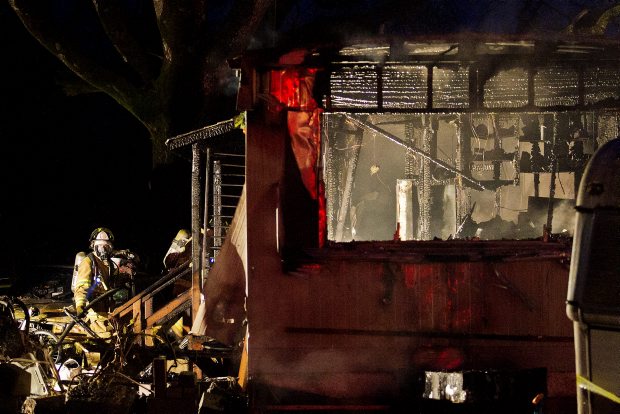 Central Saanich fire department members work at the scene of a trailer fire Thursday on the Tsartlip First Nation.
Photograph by:
Darren Stone, timescolonist.com
Central Saanich Fire and RCMP are investigating after a man died in a fire in his trailer on the Tsartlip First Nation reserve Thursday evening.
Fire broke out around 4 p.m. in the single-wide trailer on Tsartlip Road in Brentwood Bay, said Sidney/North Saanich RCMP Sgt. Wayne Conley.
Firefighters arrived to find the trailer fully engulfed with the man trapped inside.
Conley said there was an effort by neighbours to pull the man from the trailer but the flames and heavy smoke were too much.
The fire was out by around 4:40 p.m. and the man was found deceased inside.
Clarence Charlie, who lives across the street, said he saw flames shooting from the trailer and heard people yelling to try to get the man, whom he identified as Joe Henry Jr., out of the burning structure.
"The flames were shooting out the main door and roof," he said. "There were some young guys trying to break the window to get [Henry] out."
"I don't think he made it," said Charlie's wife, Theresa Frenchy.
One member of the reserve said some of the young men, relatives of Henry, were taken to hospital and treated for smoke inhalation. She said they are still reeling at the news that Henry died.
Members of the reserve and Henry's relatives gathered in a two-storey home next to the trailer and comforted each other but would not speak to reporters.
Grief counsellors from the band were also with the family.
Tsartlip Chief Wayne Morris would not comment out of respect for the grieving family.
The rain pounded down as fire investigators sifted through the gutted trailer, which was reduced to a blackened shell, its walls and roof gone. A thick smell of smoke lingered in the air.
Conley said it's too early to say what caused the fire.
He said because of the harsh weather, investigators will likely be on scene late into the night and will return Friday morning.
B.C. Coroners Service is also investigating.
Earlier this month, a resident of the Songhees First Nations reserve narrowly escaped death after an explosion tossed him from his trailer on Cooper Lane.
View Royal Fire have not yet released the cause of that fire.
We thought you might also be interested in..