Anorexia patient delighted to be putting on weight
Dec 30 2011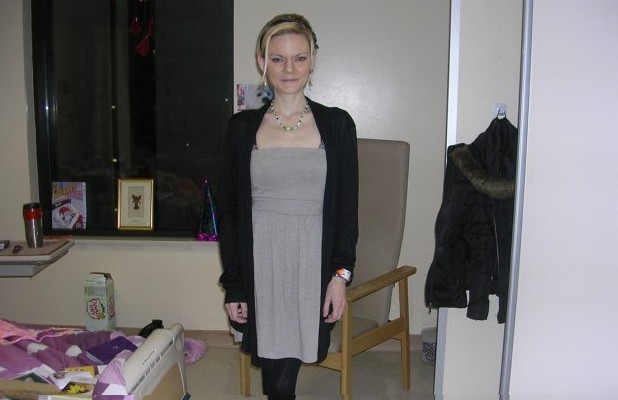 Amber Foster is back up to 90 pounds.
Photograph by:
Supplied photo, timescolonist.com
A Comox Valley woman whose fight to survive an eating disorder drew attention to a lack of residential treatment options in B.C. is gaining weight and is ecstatic about it.
Amber Foster, whose weight dipped as low as 76 pounds, left Dec. 5 for treatment at an eating disorder clinic at the University of Alberta Hospital in Edmonton.
"I am 90 pounds," she said in an email Thursday. "I have made some great gains."
Foster, 30, said her electrolytes remain unstable and heart irregular. But, most importantly, she said, "I am not going to die in six months. Holy cow, I am going to have a life back."
Foster is anorexic, which means she refuses or feels unable to eat as part of a complex coping strategy to deal with deeper problems.
She was treated over eight years at St. Paul's Hospital in Vancouver, where she was told her condition was chronic and she would have to learn to live with a lifelong disease.
There are just three publicly funded eating disorder residential programs for adults in B.C.
St. Paul's has seven inpatient beds, Vancouver Coastal Health's Vista house has eight beds and Woodstone Residence, on Galiano Island, offers 20 beds for people aged 17 to 24.
Feeling she had nowhere else to turn, Foster sought a doctor's referral for treatment in Edmonton.
There, she wakes at 7: 30 a.m. each day and with up to 40 other women, eats all of her meals. The program treats the whole person instead of only the medical aspect of anorexia, she said.
"This program is absolutely amazing and unique to Canada," Foster said, adding that patients graduate from a two-to-three-month medical stabilization program to a two-to-six month residential recovery program.
"It is wonderful because you go from one [program] right to the other without having to wait."
Foster expects to be in the program for another five months.
Tammy Johnson, of Sooke, who weighs just 70 pounds, says it is exactly the type of long-term and graduated residential care that she needs.
"I would like that opportunity, too," Johnson said Thursday, as she returned to Victoria from two appointments at St. Paul's Hospital.
At 32, Johnson has had two heart attacks and organ failure, and her teeth are rotting. Her $100,000 inheritance is gone, as are dreams of marriage, children and a career in psychology.
"I've not just tried St. Paul's once or twice - I've tried it for 11 years and evidentially it's not what I need," Johnson said. "I need to go somewhere where there's a long-term program but we don't have that program here."
Johnson is on St. Paul's medical critical list and yet her appointment for "precare," when they will talk about admitting her, is Jan. 24.
The wait "to actually get in there is actually horrendous," Johnson said.
"It's all we have. The care at St. Paul's is fabulous. It's not that it's bad care, it's just that I need something more than they can offer."
Johnson regards the hospital as a "safety net" from dying, but not a place to support her switch to independent living.
ceharnett@timescolonist.com
We thought you might also be interested in..