Tsartlip heartbreak: Fire's tragic return
Dec 31 2011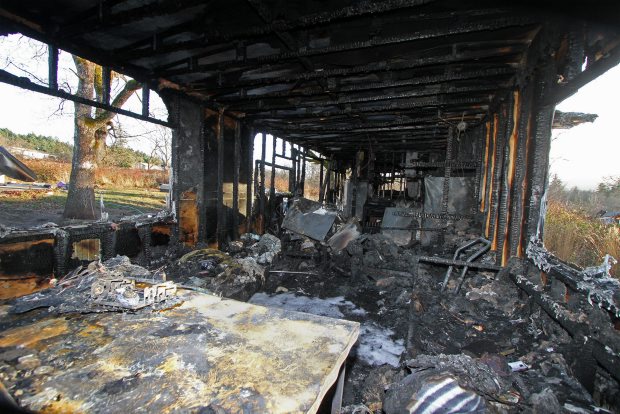 The gutted trailer in which Henry and seven others lived.
Photograph by:
Bruce Stotesbury, timescolonist.com
The 44-year-old man who died when flames consumed his trailer on the Tsartlip First Nation reserve Thursday had lost another home to fire several years ago.
Wilfred Joseph Henry Jr., a long-time resident of the reserve in Brentwood Bay, watched his house burn down about five or six years ago in almost the same spot where his trailer burned, said Tsartlip Chief Wayne Morris. No one was injured in the earlier fire.
"This family has gone through so much every year," Morris said.
Henry lived in the trailer with seven other people, including his brother, Jody, his common-law wife, Maxine, her daughter and husband and their children.
The fire started about
4 p.m. and quickly engulfed the trailer, trapping Henry inside and preventing several neighbours and relatives from pulling him to safety.
Central Saanich fire department and RCMP investigators haven't determined the cause of the fire, but they believe it started in the kitchen, said Sidney-North Saanich RCMP Sgt. Wayne Conley.
Fire investigators removed a stove from the charred trailer Friday morning and are examining it.
The B.C. Coroners Service is also investigating.
Given how many people lived in the trailer, Conley said that it's fortunate the others weren't home at the time.
Morris said the Henry family has been through a lot in the last few years,
noting Henry's father,
Wilfred Henry Sr., died five years ago to the day of Thursday's fire.
"Everybody's just
heartbroken about the loss at a time like this," Morris said.
Henry was well known in the community and was often seen pushing his grandchildren in a stroller.
"He was friendly. He was always smiling and waving at everybody," Morris said.
Victim services is
providing shelter for the family members who have been left homeless —
but only until early next week.
At that point, the community will try to help the family start over.
"I don't think they saved anything. Everything is gone," Morris said.
Grief counsellors from the band are comforting the family.
A funeral is planned for Jan. 6, Morris said.
kderosa@timescolonist.com
smcculloch@timescolonist.com
We thought you might also be interested in..