Save-on-Foods Memorial Centre gets new video screens
Dec 31 2011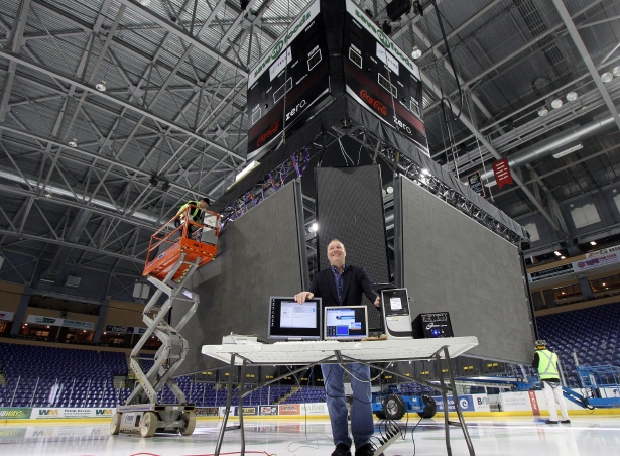 Dave Dakers, president of RG Sports & Entertainment and the Royals stands in front of the main video boards that were being installed as part of a new system at Save-On-Foods Memorial Centre on Dec. 30, 2011
Photograph by:
Bruce Stotesbury, timescolonist.com
Work was in full swing Friday at Save-on-Foods Memorial Centre, with the goal of having eight video-replay screens installed in time for Victoria Royals' Western Hockey League game on Tuesday.
The Retop Displays Inc. system will be situated above the existing scoreboard. Four main light-emitting diode (LED) screen boards are 18 feet wide by 10 feet high and four smaller screens are secured on angled corners, creating an octagon shape in a configuration that includes 144 monitors.
"It's arrived and going up, and it's going to be a great addition to hockey and the Royals. We're just hoping it works," said Dave Dakers, president of RG Sports & Entertainment and the Royals. "Putting this in during a two-week period was a bit of a risk."
The LED screen displays live, high-definition video action, features and special production pieces in high-definition quality. More than a dozen employees of SW Audio Visual will operate the game-day production, with wireless cameras capable of roaming the stands. Cameras will also be in place above centre ice and in the corners.
"Normally we would do this over the summer," Dakers said. "But we had the opportunity to get it in during Christmas. It'll be up, whether it's working will be the question. There's a reasonable chance it will be working Tuesday, but it will probably be until the end of January before it's functioning at 100 per cent because we haven't had a lot of time to troubleshoot and test some of our video capabilities on it. Hopefully, the basics are working Tuesday."
The organization had tested camera angles before the Christmas break.
Hockey fans will be the main benefactors of the new configuration, which is being described as a project expected to cost more than $500,000 but less than $1 million. The bill is being shared by RG Sports & Entertainment and the City of Victoria.
The system will not be used for concerts as most performers travel with their own video production equipment, but it could be incorporated into self-produced events, said Dakers.
"We see a lot of long-term success with the WHL, and a little bit of investment up front to make it a better experience seems to make sense," said Dakers, who added the city was 100 per cent behind the project.
Dakers himself is looking forward to enhancing the entertainment value of the product, rather than the slo-motion replay capabilities of the screens.
"I am not a proponent of replays," he said, with a laugh. "I like that people can argue about goals and talk about it for a week.
"In reality, what it does is add more excitement. At the end of the day, it gives us something to work with in between periods and whistles to get fans more into the game."
The unit includes:
— Four LED full motion screens that are six metres high by three metres wide
— Each LED screen displays live HD video action, features and special production pieces in HD quality.
— Four secondary screens
— Five-camera operation
— Two centre-ice cameras from media level
— Two cameras in the corners (one at each end).
The Royals play host to the Calgary Hitmen on Tuesday at 7 p.m.
mannicchiarico@timescolonist.com
We thought you might also be interested in..