It's a boy! Meet the capital region's New Years baby
Jan 02 2012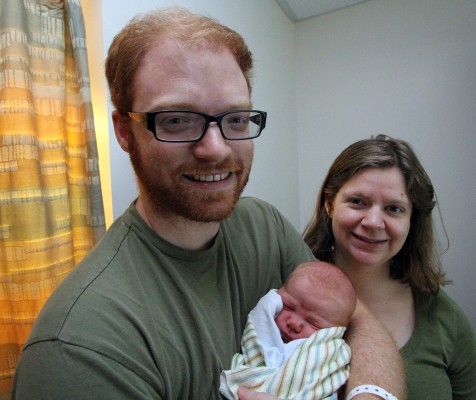 Parents Mark and Kate Haines proudly present William Robert Haines.
Photograph by:
Adrian Lam, timescolonist.com
A healthy, fair-haired boy is Greater Victoria's New Year's Day baby for 2012.
William Robert Haines, the first child of two civil servants from Esquimalt, was born at 3:08 a.m. Sunday at Victoria General Hospital.
Baby Will weighed nine pounds, eight ounces and checked in at 20 inches long.
Parents Kate and Mark Haines, both 31, said they are tired but excited about their son's birth and celebrity.
"It's nice he has his 15 minutes of fame so early in life," Mark said.
"I'm excited — and scared I'm not doing everything right," he said Sunday afternoon, while practising his swaddling technique and adjusting the baby in his arms for media photos.
Kate was surprised to give birth to the New Year's Day baby — especially because he was due Dec. 20.
Kate was induced for labour at 2 p.m. Saturday and said she was in labour 14 hours before giving birth. She described both the pregnancy and delivery — with the help of an epidural analgesia — as relatively easy and complication free.
Kate and Mark are both B.C. government employees.
Kate is a project assessment officer with the Environmental Assessment Office in Victoria. Mark is a policy analyst with the Ministry of Energy and Mines.
Will is a first grandchild for Kate's parents and a 10th grandchild for Mark's parents.
Both the baby's first name, William, and second, Robert, are family names.
Dr. Jane Papp and Dr. Erin Becker delivered Will. Dr. Monica Mentz was the maternity doctor.
The parents thanked their doctors as well as those who sent gifts, including Victoria General's mother-and-babe unit and the hospital auxiliary.
ceharnett@timescolonist.com
We thought you might also be interested in..