Homicides, traffic deaths rise in 2011
Jan 04 2012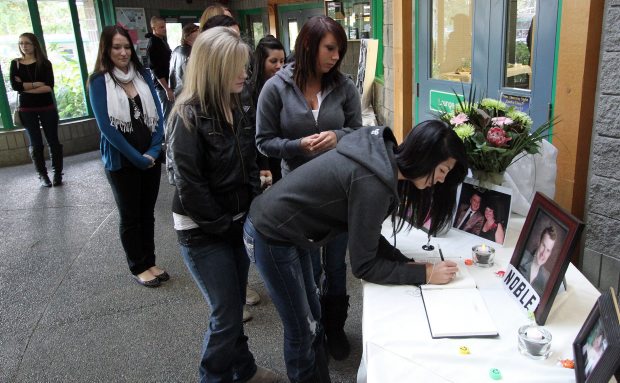 People sign the guest book during a memorial at the Shawnigan Lake Community Centre for Tyler Noble, 20, one of six homicide victims last year. (Dec. 2011)
Photograph by:
Adrian Lam, timecolonist.com
There were six homicides in the capital region in 2011, two of which were murder-suicides.
That's up from five homicides in 2010, which is typical for Greater Victoria, according to Statistics Canada crime data.
On Jan. 18, couple Erich Mueller, 72, and Kathy Mueller, 66, were found dead in their beachfront home on Cadboro Bay Road. Saanich police have refused to reveal who was responsible for the deaths, or how the couple died. However, friends of the family said Erich Mueller had been struggling with depression.
Five months later, on May 2, the bodies of a Langford couple were found inside their home on Jeanine Drive. West Shore RCMP said Peter Scheeren, 77, stabbed his 73-year-old wife, Shirley, to death before killing himself.
Jeanine Drive was the scene of a brutal killing on March 7, when Langford resident Joseph Knelsen, 44, allegedly attacked his friend, 53-year-old Gordon Berg. Knelsen is charged with first-degree murder and awaiting trial.
Just a week later, Gilles Alain Thibodeau, affectionately called Frenchie by many in the street community, was violently assaulted in a motel room at Metro City Suites on Rock Bay Avenue. He died in hospital March 22. A 34-year-old West Shore man, Jason Robert Van Winkle, is charged with aggravated assault and could face more serious charges in relation to the death.
The murder charges against Joshua Bredo, who was accused of causing the death of 20-year-old Daniel Levesque, were stayed because there was not enough evidence to convict.
Victoria police originally believed Levesque, an aspiring musician wellknown in Revelstoke, was killed after an altercation with Bredo in a Cormorant Street condominium.
Popular Shawnigan Lake resident Tyler Noble, 20, died after an altercation in downtown Victoria in the early hours of Nov. 29.
Brandon Huth, 24, is charged with manslaughter for allegedly punching Noble, who fell back and slammed his head on the pavement.
There were nine traffic fatalities in the region in 2011, in addition to three on the Malahat. That total is up from 10 the year before but still fewer than the 15 traffic deaths in 2009.
The most recent fatality on the Malahat was a headon crash on Dec. 28 in Shawnigan Lake.
Perhaps the most shocking and unusual fatal crash was on July 29, when an 82-year-old woman plowed her car into a group of cab drivers sitting on a bench at Victoria International Airport.
Ramesh Sharma, 57, a married father of three, was killed and six others were injured. Sidney/North Saanich RCMP have not released the name of the elderly driver. Police have not said what caused the woman to crash into the group other than to say they don't believe she suffered a medical emergency and that her foot remained on the accelerator the whole time. Sharma's family and the six injured men plan to sue for damages.
One cyclist, 50-year-old Mark Phillip Metcalfe, was killed when he was hit by a semi-trailer driving down Burnside Road on Nov. 28. The driver of the semi-trailer was not charged.
For the third year in a row, there was one fatal fire in Greater Victoria.
Wilfred Joseph Henry, 44, died Dec. 29 after flames broke out in his trailer on the Tsartlip First Nations reserve.
Police have not released the cause of death of Amanda Lee Langford, 34, who was found dead in the Goldstream River in July.
Among the deaths still deemed suspicious is that of Shannon Rogers, whose body was found in Colquitz River Park on June 12.
A 20-year-old man was found dead in View Towers on Jan 3. Victoria police say he may have been in a fight a few days before his body was discovered.
kderosa@timescolonist.com
We thought you might also be interested in..