Victim in blast says he owes life to helmet
Jan 04 2012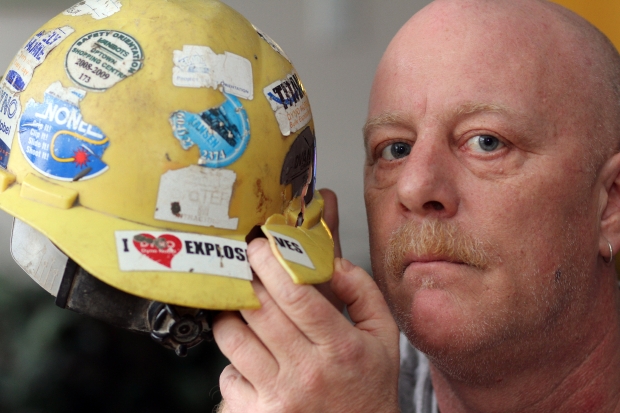 Dan Butts with the shattered hard hat that saved his life.
Photograph by:
Bruce Stotesbury, Times Colonist, Jan. 3, 2012
Dan Butts had five days under his belt as a blaster's helper at Mid-Island Aggregate near Shawnigan Lake when an unplanned explosion sent rock flying 500 metres.
"It was the scariest moment of my life," said Butts, now 49 and with five years' experience in the blasting industry.
He spoke out Tuesday for the first time about the day that changed his life and the hard hat that saved it. It was Sept. 20, and Butts was assisting another man who was readying drill holes for blasting.
But a charge went off prematurely, blowing huge shards of rock across the open mine.
"It was like a meteor shower and when I saw it, I had just enough time to turn around and then I was knocked out," Butts recalled.
He had held onto the hard hat that he credits with saving his life: "If I didn't have that on, I can honestly say I wouldn't be talking to you right now."
An RCMP spokesman at the time also credited Butts' "six- or seven-dollar hard hat" with saving his life
The flying rock sliced open the tough shell of the hard hat and lacerated Butts' head, causing a skull fracture and damage to his brain. He also suffered injuries to his neck and shoulder.
He has been plagued with headaches due to the head injury but is now starting to feel better.
Betty Hopkins, then 57, of Victoria lost her right arm when she tried to shield herself from flying rock.
Another employee, 46-year-old David Clark, suffered minor injuries.
All three were taken to Victoria General Hospital, with Hopkins and Butts the most seriously hurt.
Hopkins was the partner of Ted Donley Jr., owner of Ted's Blasting, the contractor doing the blasting at the Mid-Island Aggregate pit.
The pit had been in operation for three years at the time of the blast. Blasting was shut down immediately after the accident.
The provincial mines inspector is investigating the blast.
Blasting at the site has been suspended until March, and a report with recommendations has not yet been released.
A spokesman at Mid-Island Aggregate said in September the company would conduct its own inquiry but there was no word if the findings would be made public. No one returned calls Tuesday to address media questions.
Butts needs to go back to work, even though he's not physically 100 per cent, because he needs to pay rent and meet other financial commitments. His compensation payments have ceased because he spent so little time on the job prior to the accident.
"I didn't have any insurable hours — I had just basically started the job," said Butts, a divorced father of two children, ages 18 and 22.
He had been unemployed for a year leading up to the injury because of an injured knee. Before that, he worked at an abattoir for 24 years, killing pigs, cows and lambs.
He worked for almost five years in the drilling and blasting industry before getting hired to work at this site.
smcculloch@timescolonist.com
We thought you might also be interested in..