Storms on central and north Island flood roads, knock out power
Jan 05 2012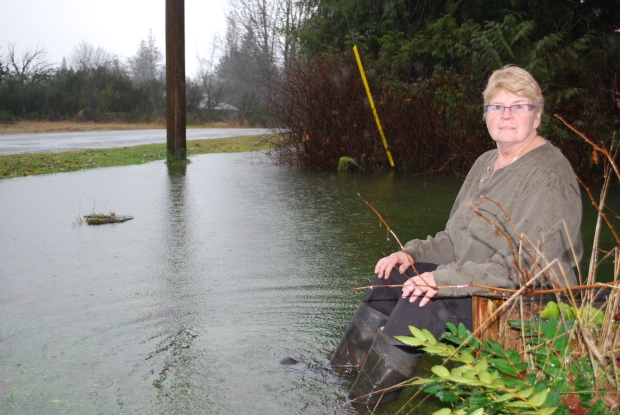 Alsie Smith jokingly called the front yard of her Port Alberni home "Smith Lake" after it flooded on Wednesday afternoon amid heavy rainfall.
Photograph by:
Julia Caranci, Alberni Valley Times, Jan. 4, 2012
A powerful storm front crawled across Vancouver Island over the past two days, knocking out power to thousands, flooding roads and forcing ferry cancellations.
About 6,000 homes were without power and flood warnings were in place Wednesday morning after heavy rains and hurricane-force winds battered central and northern portions of the Island.
The frontal system moved in Tuesday afternoon, dragging with it up to 200 millimetres of rain and winds that reached 65 knots, or 120 km/h, in some areas.
The strongest winds pummelled the northern tip of the Island, with most of the west coast seeing storm-force winds of up to 100 km/h.
Power outage numbers by Wednesday were low considering the severity of the weather, but that changed with about 5,500 customers losing power in Nanaimo Wednesday morning.
All of Gabriola Island and the Cedar-Yellow Point area south of Nanaimo lost hydro as of 9:30 a.m. due to downed power lines.
The storm caused several other outages around the Island, including about 1,900 customers in Parksville Tuesday night and about 330 customers in Bamfield on the west coast.
"It was a good storm, but fortunately it didn't result in a large number of outages," said B.C. Hydro spokesman Ted Olynyk. "Of course, that was before the Nanaimo outage."
About 120 millimetres of rain fell on the east coast of the Island at B.C. Hydro's Cruikshank rain gauge, according to the B.C. River Forecast Centre.
Commuters and commercial cargo faced delays on several of the B.C. Ferries routes that were cancelled throughout the night Tuesday.
Two round trips between Powell River and Texada Island were cancelled, as well as two round trips between Quadra Island and Cortes Island.
The B.C. River Forecast Centre maintained flood warnings for some areas as well, but damage to roads was minimal.
A spokesman for the forecast centre said there were closures on several service roads near Zeballos. The Transportation Ministry reported flooding on a 53-km stretch of Highway 19 south of Campbell River. Warnings were still posted as of Wednesday evening.
There were other reports of heavy rain on Highway 19 near Port Hardy and Courtenay, as well as water pooling near Fanny Bay.
Mainroad South Island Contracting issued a closure notice for Cowichan Bay Road just before 8 p.m. Wednesday due to flooding. Traffic was being detoured at Bench Road.
The weather system crawled across central Vancouver Island and slowly dissipated through Wednesday afternoon, but not before another 30 to 50 mm of rain had fallen, according to Environment Canada.
dspalding@timescolonist.com
We thought you might also be interested in..