Three more cougar sightings have Saanich police concerned
Jan 05 2012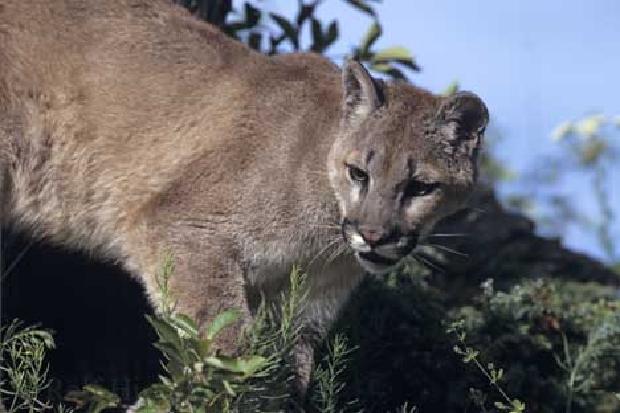 Cougars are common animals on Vancouver Island.
Photograph by:
Files, timescolonist.com
Multiple cougar sightings over the last 36 hours in well populated areas of Saanich have police concerned but a conservation officer says it's part of living in an area rich with wildlife.
There were at least three cougar sightings around midnight: One in Central Saanich on West Saanich Road in Brentwood; one in which a cougar was headed past a bus stop north on Quadra Street near Quadra and McKenzie; and one in which a cougar was south-bound along Blenkinsop Road.
These reports overnight come on the heels of several cougar sightings Tuesday night, in the 800 block of Seamist Place near McMinn Park and Claremont Secondary School, and Wednesday morning in the 100 block of Battleford Avenue, which runs parallel to the Trans-Canada Highway up to Tillicum Road.
"Police are requesting that the public maintain a heightened awareness in these areas and be cognizant of the potential danger associated with these animals," said Staff Sgt. Mark Muth, in a media statement.
"Increased vigilance with repect to protecting children and pets is obviously warranted," he said.
It's not known how many cougars are potentially in the area or how many sightings concern the same big cat.
Conservation officer Peter Pauwels, in Victoria, said cougars are active all year round.
"There are cougars in the area and we can't make them disappear," Pauwels said.
The wildlife is a reality in the rural-urban setting in which we live and there has been no reports of aggressive behaviour, stalking or livestock kills related to the cougar sightings in recent days, Pauwles said.
Plentiful green spaces in the south Island and Greater Victoria allow cougars to sometimes "find their way quite far into civilization," he said.
There are only two conservation officers serving the area and no one has been working during the very late and early hours when cougars have been spotted in recent days.
However, "we have the capability to come out in an emergency situation when public safety is at risk," he said.
ceharnett@timescolonist.com
We thought you might also be interested in..